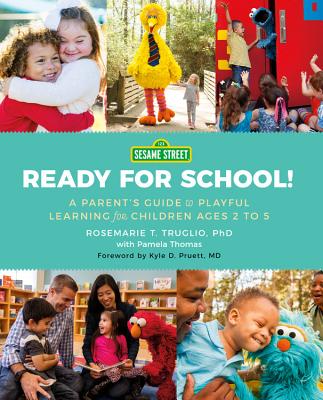 Sesame Street
Ready for School!: A Parent's Guide to Playful Learning for Children Ages 2 to 5
Paperback

* Individual store prices may vary.
Description
Sesame Street, the most trusted name in preschool education, offers a complete, user-friendly guide to help parents prepare their children, ages 2-5, for academic, physical, and social success.

For the past 50 years, Sesame Street has stood at the forefront of child development, stimulating and nurturing the minds of preschoolers not only through the iconic TV show, but also through books, games, mobile apps, and community engagement initiatives. With Ready for School!, Senior VP of Curriculum and Content at Sesame Workshop Dr. Rosemarie Truglio shares all the research-based, curriculum-directed school readiness skills that have made Sesame Street the preeminent children's TV program, and that every parent needs in order to get their preschooler ready for lifelong learning.

Each of the book's eight chapters focuses on a key area: language, literacy, math, science, logic & reasoning, social & emotional development, healthy habits, and the arts. An essential dynamic of Ready for School! is its emphasis on the importance of play in a child's learning process. To respond to that need, dozens of "Play & Learn" activities are included to aid parents in educating their children: at the kitchen table, on the bus, in the park, or in the preschool classroom while playing together. In addition, the book recommends scores of hints, tips, ideas for useful products, and deep-dives on more complex topics for parents, all designed to make preparing young kids for school easy and joyful.

Praise For Sesame Street: Ready for School!: A Parent's Guide to Playful Learning for Children Ages 2 to 5…
"One of the best sources I've found on using play as a way to get your children ready for school... full of fun ideas on how to get your child ready for school by using the things around you, and involving your youngster in simple activities."—-Scary Mommy

"Finally! A delightful and beautiful book for parents of young children! Based in the same science of learning that Sesame Street is so fabulous at bringing out (thank you Rosemarie Truglio!), it offers parents wonderful insights into their kids' development and fun and interesting things to do with their kids! I will be giving this book to new parents for sure!"—-Roberta Michnick Golinkoff, Ph.D., author of Becoming Brilliant: What Science Tells us about Raising Successful Children and Professor of Education, Psychological and Brain Sciences, and Linguistics and Cognitive Science University of Delaware

"What a wonderful and useful guide for parents and caregivers of young children. Rosemarie Truglio takes the best practices from developmental science and studies of young children's learning and offers an accessible and applicable roadmap for parents and caregivers. Coming from Sesame Street you know it represents the best for children."—-Ellen Wartella, PhD, Director, Center on Media and Human Development, School of Communication, Northwestern University

"'Ready for School' is a welcome book for parents. Dr. Truglio provides easily accessible ways to engage with your child in fun, playful and meaningful ways. These everyday tasks will provide children with a lifelong foundation for learning. Busy parents will love this book as it is filled with clear and simple examples of how learning happens all around you and your child. Make your time together that much more enjoyable, playful and fueled with learning."—-Tovah P. Klein, Ph.D., author of How Toddlers Thrive and director of the Barnard College Center for Toddler Development

"This is a treasure trove for all adults who have the good fortune to spend time with children in their early years. The book is brimming with ideas and activities that are designed to guide children along on a developmentally appropriate continuum. Clear charts and milestone markers serve as a useful road map for your child's growth and development. Learning through play is central to the way in which each experience connects to the child's daily life. Enjoy this book and most importantly, the wonder of the young child!"—-Betsy McKenna, Educational Consultant
Running Press Adult, 9780762466078, 288pp.
Publication Date: September 10, 2019
About the Author
Rosemarie T. Truglio, Ph.D. has been a vital presence at Sesame Workshop for more than two decades. She is the Senior Vice President of Curriculum and Content at Sesame Workshop, overseeing content development across media platforms and product distribution. She is a leading authority on child development, has written numerous articles, appeared on Today, Good Morning America, and National Public Radio, and serves as a frequent contributor to global discussions concerning early childhood education. Dr. Truglio lives in New York City with her husband and son.

Pamela Thomas is a Senior Editor in the NAMPP (North American Media Products and Publishing) division of Sesame Workshop. Prior to joining Sesame Workshop, she was a publishing executive for more than 25 years. She is the author of 12 books, including Fatherless Daughters, Turning the Pain of Loss in the Power of Forgiveness. She lives in Brooklyn, NY.