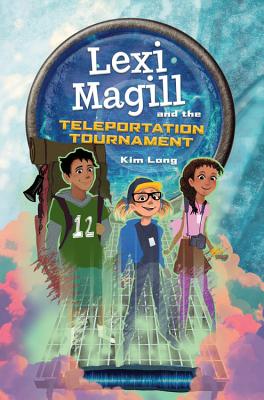 Lexi Magill and the Teleportation Tournament
Hardcover

* Individual store prices may vary.
Other Editions of This Title:
Paperback (7/26/2022)
Description
For fans of The Amazing Race, Lexi Magill and the Teleportation Tournament is the perfect adventure for middle grade readers who like scavenger hunts and puzzle-solving.

Twelve-year-old physics whiz Lexi Magill won't let anything stop her from winning Wisconsin's Teleportation Tournament--the annual competition where teams teleport around the world to solve science-based puzzles. She needs the prize money if she wants to re-enroll in the science academy her parents can no longer afford. Added bonus: she'll be able to reconnect with her best friend Haley.

But Lexi's two teammates put a wrench in her plans. When one misreads a clue that lands the team in a castle in Germany, and the other loses her teleportation medallion in Poland, Lexi wonders what she's gotten herself into. Struggling to keep her team under control as the race rages on, Lexi not only has to figure out how to get back on course (literally), but she must decide how far she's willing to go to win, and who her real friends are. With riddles to solve and messages to decode, this interactive read won't disappoint!

Praise For Lexi Magill and the Teleportation Tournament…
This entertaining tale, chock full
of facts and figures, covers a variety of topics, making a pleasure out of
learning. A diverse cast of characters-all ages and backgrounds-highlights the
idea that there are many different forms of brilliance. A lively story that
stresses the importance of true friendship, a passion for learning, and the
beauty of teamwork-fine lessons for any reader.—Booklist

"For fans of mysteries, science, and everything between, this is a fun twisty tale reminiscent of Ellen Raskin's The Westing Game."—School Library Journal

Readers will jump for this around-the-world adventure full of STEM challenges, exciting twists, and, most of all, heart.
—Megan Frazer Blakemore, author of The Firefly Code

Wow, wow, and wow! If you're into stories that are fast-paced, full of action, and lots of fun, then Lexi Magill and the Teleportation Tournament is the book for you. Lexi and her friends are down-to-earth, smart, inventive, and full of heart. I was rooting for them the whole time, and the twists and turns of the story kept me glued to the page. The many challenging puzzles throughout also added to the excitement. A thrilling ride for readers of all ages!—Wade Albert White, author of The Adventurer's Guide series

Lexi Magill and the Teleportation Tournament takes off like a rocket and doesn't slow down one bit. Readers will revel in the competition, root for Lexi, and relate to the ups and downs of her shifting friendships.—Jarrett Lerner, author of the EngiNerds series

A delightful romp across the globe, jam-packed with puzzles, friendship, and fun!—Kevin Sands, author of The Blackthorn Key series

A world-hopping blast of adventure, and a fantastic reminder that everyone has something to add no matter their specialty.
—Sean Easley, author of The Hotel Between
Running Press Kids, 9780762466986, 288pp.
Publication Date: October 1, 2019
About the Author
Kim Long loves to write stories with a sense of adventure, a dash of magic, and a hint of science. She wrote her first book at age 10, where she combined the best parts of her favorite Choose Your Own Adventure books into a single story. When not writing, she loves playing board games, watching Star Wars movies, and riding her bike along Illinois's many trails.