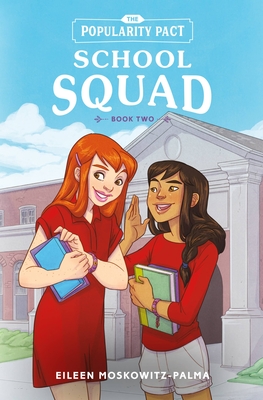 The Popularity Pact
School Squad: Book Two
Paperback

* Individual store prices may vary.
Other Editions of This Title:
Hardcover (10/6/2020)
Description
Two former best friends struggle to fit in and join the inner circles of middle school social life in this absorbing second entry of a duology about a resilient friendship, the pressure to conform, and the power of self-acceptance.
Picking up where The Popularity Pact: Camp Clique left off, the second book in this exciting duology finds former best friends Bea and Maisy preparing for the new school year. Bea kept up her end of the bargain, getting Maisy "in" with the girls at camp. Now it's Maisy's turn to fulfill her promise to ingratiate Bea with the popular girls. When Bea is accepted into this new inner circle, she begins to lose sight of what true friendship is all about. As Bea seems prepared to sacrifice anything to be "cool," Maisy realizes there's more to life than hanging out with a bunch of mean girls. Can she convince Bea that the popularity pact was a mistake? Can these former friends find their way back to each other?
Running Press Kids, 9780762467488, 304pp.
Publication Date: August 10, 2021
About the Author
Eileen Moskowitz-Palma, a former elementary school teacher, is an alumna of Sarah Lawrence College's The Writing Institute, where she teaches Beginner and Intermediate Novel Writing. Eileen lives a vegan-ish lifestyle (unless you count an occasional bacon cheeseburger) and is a half-marathoner who hopes to be brave enough to one day run the full. She lives in Bronxville, NY, with her college sweetheart, Douglas, their daughter, Molly, and her Wire Fox Terrier, Oscar, who is one snaggle-tooth away from being a doggy model.