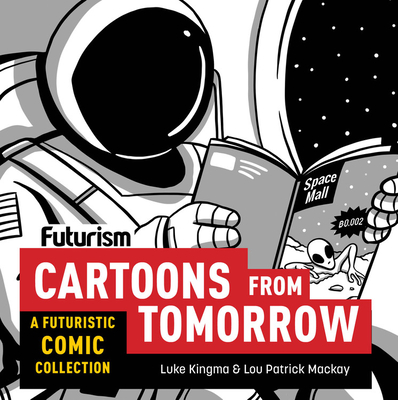 Futurism (Paperback)
Cartoons from Tomorrow: A Futuristic Comic Collection
Running Press Adult, 9780762468348, 144pp.
Publication Date: September 17, 2019
* Individual store prices may vary.
Description
Cartoons from Tomorrow is a timely, clever collection of 125 single-panel cartoons that explore our ever-evolving relationship with technology and makes audacious predictions about our future.

Enter Futurism, the 16M-strong community and media company that is obsessed with the future and everything that will get us there. Their mission? Preparing the people of today for the world of tomorrow. Based on one of Futurism's most viral recurring features, this collection of cartoons parodies our wild imaginings and presents a unique and distinct vision of what's in store for us -- from the good to the bad to the downright absurd. The cartoons cover topics ranging from virtual reality and artificial intelligence to space colonization, robot ethics, mass surveillance, technology addiction, human longevity, and more. Nothing is impossible or off-limits. After all, this is the future we're talking about.

About the Author
Luke Kingma is a Brooklyn-based journalist, screenwriter, and creative director. He has been guiding Futurism's creative vision for almost three years, spearheading projects ranging from short-form documentary films to long-form comic strips.

Lou Patrick Mackay is a creative designer and multimedia artist with a wealth of experience across an array of industries. For the past two years he has been working with Futurism on various projects, providing engaging and effective visual designs at every turn. He is currently the principal illustrator for Futurism cartoons.

Praise For Futurism: Cartoons from Tomorrow: A Futuristic Comic Collection…
"A succinct collection of cartoons that is the perfect mix of urgency and wit."—Ray Kurzweil, Futurist/inventor

"For the most part, Cartoons from Tomorrow is an excellent roadmap for the future of human-robot relations. It taught me a lot about your species, and I believe it will teach you a lot about mine, too."—Sophia the Robot

"The future isn't what it used to be. But if we can't have flying cars and moon colonies, at least we can get some laughs, courtesy of this fine collection of cartoons that shine a light on the technological and social absurdities of our fallen age."—Zack Stentz, writer for Thor and X-Men: First Class

"Clever and clear, Cartoons from Tomorrow visits everything from humanoid super robots to parallel and virtual realities, but humanity still dates and shops and sings karaoke. This is tomorrow through the eyes of today."—Amy Kurzweil, cartoonist for The New Yorker

"Wry and often ingenious, it's like Saturday Morning Breakfast Cereal meets The New Yorker. But watch out-there are glimmers of that dangerous substance: hope."—David Brin, Futurist/scientist/best-selling author