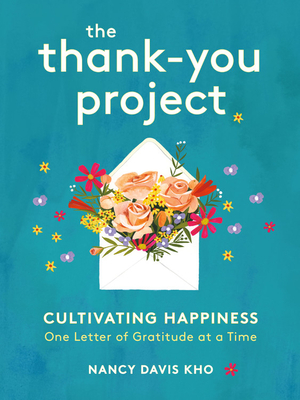 The Thank-You Project (Hardcover)
Cultivating Happiness One Letter of Gratitude at a Time
Running Press Adult, 9780762468454, 240pp.
Publication Date: December 3, 2019
* Individual store prices may vary.
Description
Gratitude is good for the soul !-- and The Thank-You Project provides an intriguing way to capture its power.

The Thank-You Project chronicles the wonders that happened when Nancy Davis Kho wrote "thank-you for the impact you've had on my life" letters to key people in her life, over the course of a year-and provides practical guidance for readers who want to start a letter-writing project of their own.

As Nancy Davis Kho sailed toward her 50th birthday in 2016, she came up with a unique way to commemorate it: She embarked on a project to write one thank-you note per week, for 50 weeks. She wanted to acknowledge the many people who had influenced her, helped her, and brought her joy. First she wrote to family, then branched out to friends, old teachers, past loves, etc. She didn't necessarily send all the letters, but with the ones she did, the recipient got a one-page reminder that they were revered and appreciated. Even better, Nancy was creating the best gift she could ever give herself. After she typed that 50th letter, she bound copies of all of them together and put the book on her nightstand. She returns often to that letter collection, flipping at random through the pages for a reminder of her support network -- an immediate therapeutic cure when times get tough.

Using her own story as a springboard, Nancy gives real guidance to her readers who want to start their own Thank-You Project. No matter your age or walk of life, active appreciation of the formative people in your life (both past and present) can start the good vibes flowing!
About the Author
Nancy Davis Kho is a freelance writer whose work has appeared in the Washington Post, San Francisco Chronicle, US Magazine, The Rumpus, and The Toast. She covers the years between being hip and breaking one on her award-winning Midlife Mixtape blog, and on the companion Midlife Mixtape Podcast. She and her family live in Oakland, CA. Visit her at midlifemixtape.com