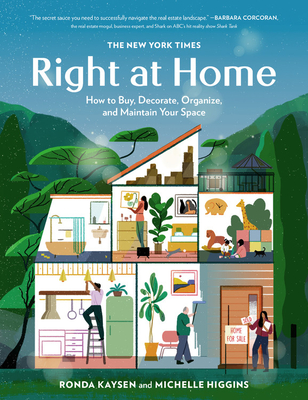 The New York Times
Right at Home: How to Buy, Decorate, Organize and Maintain Your Space
Hardcover

* Individual store prices may vary.
Description
New York Times Real Estate columnists and home experts Ronda Kaysen and Michelle Higgins share their insider knowledge in this essential, all-in-one resource for how to buy, decorate, organize and maintain your space.

Whether you are shopping for a first home, renting a new apartment or are searching for smart and affordable ways to redecorate or reorganize, Right at Home is the book for you.
Kaysen and Higgins have spent more than two decades interviewing experts and demystifying all aspects of home buying and care. This guide, drawn from their work, will be with you at every turn, whether you're unpacking the kitchen for the first time, moving in with your significant other, or figuring out what to do with all those baby bottles and sippy cups now that the last child is out of diapers and the cabinets are bursting. Including pro tips from experts such as Marie Kondo, Bunny Williams and Justina Blakeney, and a removable annual home maintenance checklist, Right at Home is the indispensable guide that you will return to again and again.


Praise For The New York Times: Right at Home: How to Buy, Decorate, Organize and Maintain Your Space…
"In addition to practical advice written in a non-judgy tone (no konmari cleanses in sight!), this guide is chock-full of IRL anecdotes from the authors, homeowners, and design experts. It's the perfect gift for a college grad, a first-time owner-or those friends that keep hounding you for free decorating advice."—Architectural Digest, "18 Captivating New Books to Spark Inspiration"

"Look no further -- Right at Home has it all. Whether you are renting or buying your first home or have owned for years, Ronda and Michelle provide the secret sauce you need to successfully navigate the real estate landscape."—Barbara Corcoran, the real-estate mogul, business expert, and Shark on ABC's hit reality show Shark Tank

"Home-ownership and home-decor are intimately connected, but this is the first time I've seen the two subjects converge in a single, holistic guide that will leave readers equal parts informed and inspired. This is quite possibly the most pragmatic home guide you'll ever come across, and it's pretty enough for your coffee table!"—Justina Blakeney, designer and New York Times best-selling author of The New Bohemians

"You can't get it wrong with Right at Home. Buy it, read it, and sink into the zen of an orderly space."—Jonathan Adler

"What a treasure trove of information! This delightful yet practical resource will be invaluable to anyone who wants to feel happier at home -- from opening the door for the very first time to adding the final, finishing touches. All the answers are here."—Gretchen Rubin, New York Times best-selling author of The Four Tendencies and The Happiness Project

"A soup-to-nuts beginner's guide to the shelter game. The authors take a practical and very thorough approach to solving the many challenges of home ownership. But wait, there's more! Even the family pet gets his due."—Bob Vila, TV host, author and builder

"This book is a treasure-trove checklist of all the necessary elements that equate to an inspiring and well-considered home."—Kelly Wearstler, founder and principal of Kelly Wearstler design studio
Black Dog & Leventhal, 9780762468539, 240pp.
Publication Date: March 17, 2020
About the Author
Ronda Kaysen and Michelle Higgins are columnists for The New York Times Real Estate section. Higgins is the creator of the "The Fix" column, which offers advice on home renovations and décor. She has served as a columnist and staff reporter at The New York Times and The Wall Street Journal, covering travel, technology, real estate, personal finance, consumer trends and cars. In more than a decade at The Times, her writing has appeared on page one as well as in the Travel, Real Estate, Business, Style and Metro sections. Kaysen, an award-winning journalist, created the "Right at Home" column and writes the "Ask Real Estate" column for The Times. In her decade at The Times, she has written features for the Style, Real Estate, Business and Metropolitan sections. She has also written for top publications including Architectural Digest and Architectural Record.