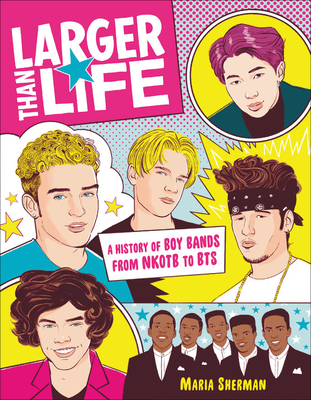 Larger Than Life
A History of Boy Bands from NKOTB to BTS
Paperback

* Individual store prices may vary.
Description
This nostalgic, fully-illustrated history of boy bands -- written by culture critic and boy band stan Maria Sherman -- is a must-have for diehard fans of the genre and beyond.

The music, the fans, the choreography, the clothes, the merch, the hair. Long after Beatlemania came and went, a new unstoppable boy band era emerged. Fueled by good looks and even greater hooks, the pop phenomenon that dominated the '80s, '90s, and 2000s has left a long-lasting mark on culture, and it's time we celebrate it. Written by super fan Maria Sherman for stans and curious parties alike, Larger Than Life is the definitive guide to boy bands, delivered with a mix of serious obsession and tongue-in-cheek humor.

Larger Than Life begins with a brief history of male vocal groups, spotlighting The Beatles, the Jackson 5, and Menudo before diving into the building blocks of these beloved acts in "Boy Bands 101." She also focuses on artists like New Edition, New Kids on the Block, Backstreet Boys, *NSYNC, One Direction, and BTS before ending with an interrogation into the future of boy bands. Included throughout are Tiger Beat-inspired illustrations, capsule histories of the swoon-iest groups, in-depth investigations into one-hit wonders, and sidebars dedicated to conspiracy theories, dating, in-fighting, haters, fan fiction, fashion (Justin and Britney in denim, of course), and so much more.

Informative, affectionate, funny, and never, ever fan-shaming, Larger Than Life is the first and only text of its kind: the ultimate celebration of boy bands and proof that this once maligned music can never go unappreciated.


Praise For Larger Than Life: A History of Boy Bands from NKOTB to BTS…
"Larger Than Life champions the enduring legacy of these male vocal groups, from winsome 1930s barber shop quartets to fetching Disney Channel celebrities. It looks like an oversized edition of a teen gossip magazine, embellished with patterned yellow borders, pink and blue headings, and bubbly illustrations inspired by Tiger Beat."—Pitchfork

"Larger Than Life...shakes off decades of under-appreciation for the pop subgenre and lays out a fascinating, in-depth history of the groups and fans that have shaped boy band culture."—Rolling Stone

"An overdue analysis of boy bands and the devoted fans who elevate them."—Wall Street Journal

"Like a pair of Nike Foamposite sneakers on a Backstreet Boy, this book is shiny, fun and expertly constructed. Maria Sherman's unrivaled knowledge of and passion for those teen dream machines known as boy bands gains depth from her conviction that they really matter, both musically and as cultural catalysts. This compendium of historical vignettes, truly useful lists and perceptive critique unassumingly works a miracle, showing how a much-dismissed subgenre can be taken seriously while still generating the sparkle its subject deserves."—Ann Powers, music critic and author of Good Booty: Love and Sex, Black and White, Body and Soul in American Music

"A definitive guide to the pop phenomenon [of boy bands] through capsule histories of the swooniest groups, in-depth investigations into one-hit wonders, conspiracy theories, dating, in-fighting, haters, fan fiction, fashion and more."—Billboard

"Maria Sherman has written the brilliant, definitive, hilarious, and long-overdue appreciation of boy-band culture-the realest, oldest, truest of pop passions. She chronicles the artists and fans with the respect they deserve. Larger Than Life is a revelation and a joy to read, in prose that sparkles like a One Direction hook."—Rob Sheffield, author of Love is a Mix Tape and Dreaming the Beatles

"In Maria Sherman's remarkable Larger Than Life, devoted music fans finally have a critic that honors and reveres fandom for what it really is -- expertise. She plunges into the depths of pop history and gives us a glorious look into the often maligned and misunderstood boy bands and their fanbases. Larger Than Life is feminist, gleeful, intersectional, funny, nuanced and nerdy -- Sherman is the great understander of boy bands and their fans."—Jessica Hopper, music critic and author of The First Collection of Criticism by a Living Female Rock Critic

"[This] colorfully illustrated book is perfect for diehard stans, pop culture aficionados and music fans looking to fill a blind spot."—Paste Magazine

"Sherman neither claims to be unbiased nor definitive, and though she provides plenty of nostalgia, she also smartly explores the cultural landscape that allowed boy bands to flourish and the lasting impact of these groups. Readers will want to have a playlist queued up."—Booklist

"A witty, irreverent, but almost scholarly primer on all things boy band."—Library Journal

"Larger Than Life does not only serve as a meaningful piece of pop music criticism, but it strives to be a celebration of a fandom that was built from the love of young women despite boy band fandom being written off as a hormonal mob letting out guttural screams for mediocre singers."—AIPT Comics

"[An] exhaustive guide to an enduring cultural phenomenon."—Texas Monthly

"Larger Than Life is a fun read, a bright large-format paperback generously illustrated by Alex Fine. Whether it's a nostalgia trip or a list of your current favorite artists, it's a no-brainer gift for any boy band fan in your life."—The Current
Black Dog & Leventhal, 9780762468911, 224pp.
Publication Date: July 21, 2020
About the Author
Maria Sherman is a music writer and culture critic currently living in Brooklyn, New York. She has worked as a senior writer at Jezebel, managing editor at Gizmodo Media Group, senior correspondent at Fuse TV, and contributor at BuzzFeed Music. You may have seen her work at NPR and in Billboard, SPIN, Rolling Stone, Entertainment Weekly, and many other quality publications. If she were in a boy band, she'd be the bad boy. Also, Harry Styles ruined her life.