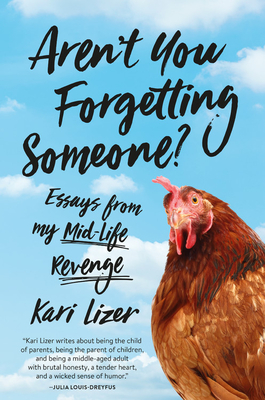 Aren't You Forgetting Someone?
Essays from My Mid-Life Revenge
Hardcover

* Individual store prices may vary.
Other Editions of This Title:
Digital Audiobook (4/6/2020)
Description
From award-winning TV comedy writer Kari Lizer (The New Adventures of Old Christine) comes a collection of hilarious essays about the challenges of being a woman of a certain age and all that comes with it: empty nest, post #MeToo dating, aging parents, menopausal rage, unrealistic expectations, and eternal optimism.

What does it feel like to have your kids leave the house at the same time your parents might need to move in? With self-deprecating humor, sharp wit, and Ephron-esque aplomb, Kari Lizer gives an honest account of finding herself in the middle of growing up, growing old, and still figuring it all out. She finds the wry, bittersweet humor in (almost) all situations--whether it's becoming radioactive during a thyroid cancer treatment, getting fired from her volunteer work, or struggling to find her identity outside of motherhood. Aren't You Forgetting Someone? speaks to those of us who lament the invisibility of the middle-aged woman, but also revel in the unexpected delights of newfound freedom to do whatever the hell we want while no one is looking.

Praise For Aren't You Forgetting Someone?: Essays from My Mid-Life Revenge…
"Kari Lizer's essays are SUBLIME . . . Moving and laugh- out-loud funny. . . No one is a more keen observer of human behavior, of the kind we all try to hide from one another. Her writing makes me feel seen, as if I belong somewhere, and that somewhere is that magical place where Kari's pen touches paper . . . Her writing makes me feel as though I am home."
—Sarah Paulson

"Kari Lizer writes about being the child of parents, being the parent of children and being a middle aged adult with brutal honesty, a tender heart, and a wicked sense of humor."—Julia Louis-Dreyfus

"Kari's essays are unpretentious, open-hearted, and filled with integrity. From boldly admitting to her flaws, to calling out the b.s. she faces as a working mother, I found myself just constantly saying, 'YAAASSSSS.'"—Wanda Sykes

"For years Kari Lizer has been writing truthful and incisive comedy for television, and now she's bringing her honesty and hilariousness to the classy world of books. We're all lucky for it."—Andy Richter

"This book is honest, open, hilarious, and has a big heart. I devoured it. Treasured it. Didn't want it to end."—Molly Shannon

"TV scriptwriter and producer Kari Lizer... debuts with a rollicking and often hilarious compilation of observations on life after her three children have departed for college. ...Readers will enjoy these challenging and sweet stories."—-Publishers Weekly
Running Press Adult, 9780762469338, 288pp.
Publication Date: April 7, 2020
About the Author
Kari Lizer is the creator of the award-winning show The New Adventures of Old Christine (which was based on her life as a single, working mom) and an Emmy-nominated co-executive producer of Will & Grace. She splits her time between Los Angeles and Vermont with her chickens, dogs, cats, horses, and occasionally children.