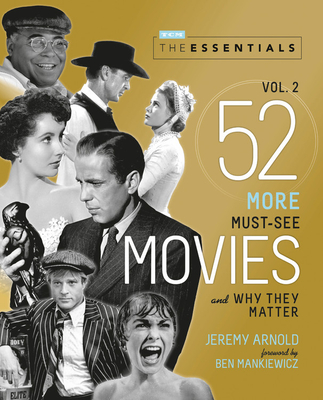 The Essentials Vol. 2
52 More Must-See Movies and Why They Matter (Turner Classic Movies)
Paperback

* Individual store prices may vary.
Description
A guide to fifty-two examples of must-see cinema, The Essentials Vol. 2 -- based on the Turner Classic Movies series -- is packed with behind-the-scenes stories, illuminating commentary, moments to watch for, and hundreds of photos spotlighting films that define what it means to be a classic.

Since 2001, Turner Classic Movies' The Essentials has been the ultimate destination for cinephiles both established and new, showcasing films that have had a lasting impact on audiences and filmmakers everywhere. In this second volume based on the series, fifty-two films are profiled with insightful notes on why they're Essential, a guide to must-see moments, and running commentary from Essentials hosts past and present: TCM's Ben Mankiewicz and the late Robert Osborne, as well as Rob Reiner, Sydney Pollack, Molly Haskell, Carrie Fisher, Rose McGowan, Alec Baldwin, Drew Barrymore, Sally Field, William Friedkin, Ava DuVernay, and Brad Bird.

Enjoy one film per week for a year of stellar viewing or indulge in your own classic movie festival. Spanning the silent era through the late 1980s with such diverse films as Top Hat, Brief Encounter, Rashomon, Vertigo, and Field of Dreams, it's an indispensable book for movie lovers to expand their knowledge of cinema and discover -- or revisit -- landmark films that impacted Hollywood forever.

Praise For The Essentials Vol. 2: 52 More Must-See Movies and Why They Matter (Turner Classic Movies)…
"Film historian and author Arnold (Christmas in the Movies) returns for a second bite at the classics apple with this delightful sequel to 2016's The Essentials: 52 Must-See Movies and Why They Matter… Arnold's knowledge is vast, and the joyful tone of his sprightly writing is infectious. With a foreword by current TCM host Ben Mankiewicz, an index and an extensive bibliography, and a list of all the films screened on The Essentials, this book will please film buffs of all ages and levels of cinema knowledge."—Library Journal starred review

"As in the first collection of essays, Jeremy Arnold provides background information and perspective on each title, while the publisher frames all of this in a handsome package with carefully-chosen stills....You can't go wrong revisiting any of [these] movies and you'll enjoy rekindling thoughts and memories of them in this appealing and well-written survey."—Leonard Maltin, film critic and historian

"Lavishly illustrated and intelligently written… The new Volume 2 handsomely complements Volume 1 design-wise and sits neatly on the shelf beside its older brother."—Raymond Benson, Cinema Retro

"A clear and concise breakdown of why these movies are worth your time… This is the perfect gift for someone that wants to get into classic movies but has no idea where to start."—Journeys in Classic Film

"A sequel that is better than the original."—DVD Corner
Running Press Adult, 9780762469390, 312pp.
Publication Date: October 20, 2020
About the Author
Jeremy Arnold is a film historian, commentator, and author of Turner Classic Movies: The Essentials and Christmas in the Movies: 30 Classics to Celebrate the Season. His writing has appeared in Variety, the Hollywood Reporter, Moviemaker, and the Directors Guild of America magazine, and he has recorded audio commentaries for the Blu-ray or DVD releases of numerous vintage films. He lives in Los Angeles.

Turner Classic Movies is the definitive resource for the greatest movies of all time. We entertain and enlighten to show how the entire spectrum of classic movies, movie history, and movie-making touches us all and influences how we think and live today.