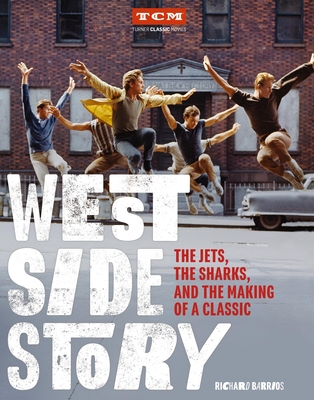 West Side Story
The Jets, the Sharks, and the Making of a Classic (Turner Classic Movies)
Hardcover

* Individual store prices may vary.
Description
A captivating, richly illustrated full account of the making of the ground-breaking movie classic West Side Story (1961).

A major hit on Broadway, on film West Side Story became immortal-a movie different from anything that had come before, but this cinematic victory came at a price. In this engrossing volume, film historian Richard Barrios recounts how the drama and rivalries seen onscreen played out to equal intensity behind-the-scenes, while still achieving extraordinary artistic feats.

The making and impact of West Side Story has so far been recounted only in vestiges. In the pages of this book, the backstage tale comes to life along with insight on what has made the film a favorite across six decades: its brilliant use of dance as staged by erstwhile co-director Jerome Robbins; a meaningful story, as set to Leonard Bernstein and Stephen Sondheim's soundtrack; the performances of a youthful ensemble cast featuring Natalie Wood, Rita Moreno, George Chakiris, and more; a film with Shakespearean roots (Romeo and Juliet) that is simultaneously timeless and current. West Side Story was a triumph that appeared to be very much of its time; over the years it has shown itself to be eternal.
Praise For West Side Story: The Jets, the Sharks, and the Making of a Classic (Turner Classic Movies)…
"Informative and engaging"
—
The Washington Post
"While remaining always respectful to the movie and the people who made it, the author lays bare the behind-the-scenes tumult, elevating the book from a typical making-of story to something really special: a no-holds-barred chronicle of what it really takes to get a great movie made."
—
Booklist starred review
"In this engrossing volume, Barrios recounts how the drama and rivalries seen onscreen played out with matched intensity behind the scenes, yet still managed to result in an artistic feat."
—
Publishers Weekly
"Barrios has a way with words and his elegant turn of phrase along with his thoughtful and informed insights make this a thoroughly enjoyable read. ... This the perfect gift for the
West Side Story
fanatic in your life. ...an engrossing read."—
Out of the Past blog
Running Press Adult, 9780762469482, 232pp.
Publication Date: June 30, 2020
About the Author
Richard Barrios is the author of the award-winning A Song in the Dark: The Birth of the Musical Film, Screened Out: Playing Gay in Hollywood from Edison to Stonewall, and Turner Classic Movies: Must-See Musicals. He has presented films at the Smithsonian Institute and the Film Forum; appeared in documentary films; and contributed audio commentaries to numerous DVD and Blu-Ray releases. Barrios lives in Beverly, New Jersey.

Turner Classic Movies is the definitive resource for the greatest movies of all time. We entertain and enlighten to show how the entire spectrum of classic movies, movie history, and movie-making touches us all and influences how we think and live today.