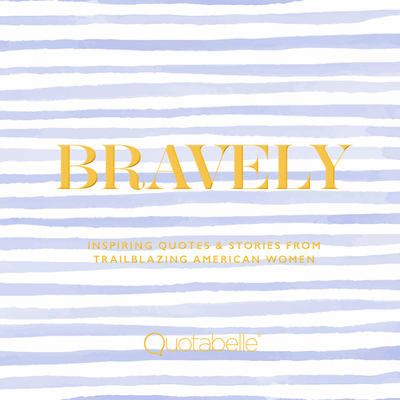 Bravely
Inspiring Quotes & Stories from Trailblazing American Women
Hardcover

* Individual store prices may vary.
Description
Discover powerful quotes and stories from courageous American women past and present in Bravely, a beautiful collection from the team behind Quotabelle.
 
From the authors of Beautifully Said and Grit & Grace comes Bravely, a captivating gift book designed to celebrate and empower female historymakers. Full of wisdom that's both timeless and timely, Bravely introduces readers to unforgettable legends, little-known trailblazers, and today's daring leaders – muses who embolden us to shape a brave, bright future.
 
With chapter themes that speak to cherished American ideals – from ingenuity to tenacity, freedom, valor, and compassion – this smart, stylish collection of quotations adds missing voices back into US history. Its pages are brimming with fascinating stories linked to iconic events, memorable milestones, much-loved landmarks, and female firsts.
 
The 100 featured profiles include much-loved figures, like Harriet Tubman, Louisa May Alcott, Sally Ride, Simone Biles, Ruth Bader Ginsburg, and Beyoncé. You'll also find a secret soldier, a polar explorer, a symphony composer, a WWII spy, a skyscraper architect, a White House chef, a monastery founder, an organic farmer, a virtual reality pioneer, and social entrepreneurs of every stripe.
 
This unique collection was meticulously researched and curated with care by Quotabelle, a start-up that elevates women's voices through the power of words.
Running Press Adult, 9780762471515, 264pp.
Publication Date: March 2, 2021
About the Author
Quotabelle creates smart, distinctive products designed to introduce female role models to the world, in print and online.

The company is solving a quote supply problem uncovered through research—that less than 15% of the millions of quotes shared every day are by women and girls. Most are unsourced; many are misattributed. The words of entrepreneurs, educators, scientists, inventors, adventurers, artists and athletes are often missing.

The Quotabelle team is reimagining how ideas are discovered and shared. They're building the most modern collection of sourced quotes by women and girls, and ensuring that every quote leads to a true story to inspire today's dreamers and doers.

Pauline Weger is an author, inventor, and social entrepreneur. Originally raised in a small, coastal town north of Boston, she and her husband recently settled in western Massachusetts after having lived in northern Virginia and Germany. Mom to two daughters, she stepped away from corporate life to spend her days building a business that creatively shares women's ideas and true stories.

Alicia Williamson, PhD is an author, editor, and wayfaring academic who loves to use her keyboard for good. She has researched and taught Literature, Writing, and Women's Studies. Her work within and beyond the university is dedicated to amplifying underrepresented voices and stories. Originally from the lake country of northern Minnesota, Alicia currently resides in the UK with her husband and their two young daughters.