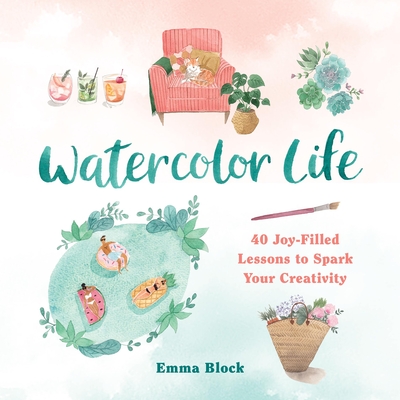 Watercolor Life
40 Joy-Filled Lessons to Spark Your Creativity
Hardcover

* Individual store prices may vary.
Description
Discover the joy and versatility of watercolors with forty gorgeously illustrated lessons for any skill level.
 Watercolors are beautiful in their simplicity: a basic palette of paints, a few brushes, and nice thick paper will do the job. The medium is also beautiful, though, in its depths and complexities. Here, watercolor artist and instructor Emma Block focuses on techniques, materials, and lessons to help you explore new watercolor techniques, build creative confidence, and discover your unique style of painting. She'll show you—with clear, step-by-step instructions—how to paint everything from people, plants, and animals perfect for framing to patterns and washes perfect for stationery and housewares.  The forty lessons cover useful topics like:
Quality materials and how they can elevate your craft
Color theory 101 to help you confidently create artwork all your own
A techniques glossary full of exciting new skills to learn
Tips for finding creative inspiration in your everyday life
Note:
For complete instructions on mixing hair colors (page 192), visit https://www.runningpress.com/articles/errata-note-watercolor-life/.
Praise For Watercolor Life: 40 Joy-Filled Lessons to Spark Your Creativity…
Praise for Emma Block

"Emma has created another beautiful and comprehensive book, bursting with inspiration and easy to follow watercolor projects. A really wonderful way to practice mindfulness and embrace your
creativity."—Stacie Swift, illustrator and author of You Are Positively Awesome

"What's not to like about '40 Joy-Filled Lessons to Spark Your Creativity'? The answer, I'm pleased to say, is absolutely nothing."—Art Book Review

"Watercolor Life: 40 Joy-Filled Lessons to Spark Your Creativity is filled with 40 engaging, creative tutorials to help you develop your watercolor painting skills, and covers everything from painting flowers and landscapes to Emma's signature characters."—Mollie Makes

"If you're looking for a fun way to spend a relaxing Sunday afternoon, this easy-to-learn watercolor book is for you. . . . Emma Block provides clear instructions on how to paint your own masterpieces, all while giving you encouragement to see the beauty in the ordinary. From flowers to objects to people, you'll be seeing the world through joyful colors as you paint the world around you. Who knows what inspiring art lies within your heart? This book would be a great addition to your book collection or a thoughtful gift to those you love this holiday season."—Yakima Herald-Republic

"Awash with contemporary themes, a liberating touch, and a friendly, supportive tone."—Breathe

"Illustration superstar Emma Block's first book . . . is not only a credit to her design skills but a step-by-step manual of how you can level up your painting."—Mollie Makes

"Whether you are a beginner or need to inject some inspiration into your sketching practice, this is a great book."—Passion for Paper

"The Joy of Watercolor will leave you with a better understanding of how to paint your vacation, pet, flowers, and more."—My Modern Met
Running Press Adult, 9780762475360, 264pp.
Publication Date: April 5, 2022
About the Author
Emma Block is a successful freelance illustrator who uses watercolors in a fresh and modern way and isn't afraid to break the rules. Her watercolor and gouache paintings have gained her nearly 80,000 followers on Instagram (@emmablockillustration) and she has become a reliable source of online watercolor advice. As well as inspiring budding artists all over the world online she teaches regular sellout watercolor classes in London, where she also lives.