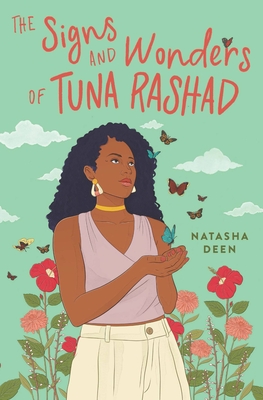 The Signs and Wonders of Tuna Rashad
Hardcover

* Individual store prices may vary.
Description
An Ontario Library Association's Forest of Reading White Pine Reading List Pick!

From award-winning, #OwnVoices author Natasha Deen comes a new funny, honest, YA novel following one girl as she tries to win over her crush before she leaves for college.

Let's be clear. No matter what her older brother, Robby, says, aspiring screenwriter Tuna Rashad is not "stupidstitious." She is, however, cool with her Caribbean heritage, which means she is always on the lookout for messages from loved ones who have passed on. But ever since Robby became a widower, all he does is hang out at the house, mock Tuna for following in their ancestors' traditions, and meddle in her life. 

Tuna needs to break free from her brother's loving but over-bearing ways and get him a life (or at least, get him out of hers!). Based on the signs, her ancestors are on board. They also seem to be on board with helping Tuna win over her crush, Tristan Dangerfield. The only hiccup? She has to do it before leaving for college in the fall. A ticking clock, a grief-stricken brother, and a crush who doesn't believe in signs. What could possibly go wrong?
Praise For The Signs and Wonders of Tuna Rashad…
"Effervescent and irrepressible, Tuna Rashad will leap off the page and straight into your hearts."—
Nafiza Azad, author of The Candle and the Flame, The Wild Ones
"Deen handily navigates sudden loss and elusive love by blending art, science, and spirituality in this breezy romance."—
Publishers Weekly
"Genuine growth is hard to script but easy to find here."—
Kirkus Reviews
"A witty rom-com that also explores grief and family dynamics, Deen captures the various nuances and familial bonds in a way that feels thoughtful and insightful."—
Canadian Children's Book News, Recommended Read
"
The Signs and Wonders of Tuna Rashad
offers all the beats of a healing journey and brings to life the theme that 'a heart in love is the loudest sound in the room.'"
 —
Quill & Quire
"The Signs and Wonders of Tuna Rashad is a well-balanced text that expertly weaves together humour and romance with themes of grief so as not to make the topic feel overly heavy […] Filled with unique and interesting characters and an engaging plot, the text is likely to elicit the full range of emotions from readers."
—
Canadian Review of Materials
Running Press Kids, 9780762478682, 256pp.
Publication Date: June 7, 2022
About the Author
Award-winning author Natasha Deen writes for kids, teens, and adults and believes the world is changed one story at a time. As a Guyanese-Canadian and a child of immigrants, she's seen first-hand how stories have the power to shape the world. When she's not writing, Natasha enjoys visiting schools, libraries, and other organizations to help people to find and tell the stories that live inside of them. She also spends an inordinate amount of time trying to convince her pets that she's the boss of the house. Visit Natasha at www.natashadeen.com.