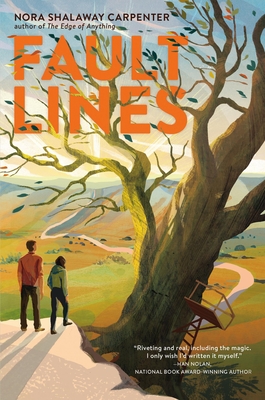 Fault Lines
Hardcover

* Individual store prices may vary.
Description
Riveting, powerful, and a little bit magical, Fault Lines offers readers a slow-burn romance alongside an unflinching examination of socio-economics, gender expectations, and environmental ethics.

Ever since her aunt died four months ago, seventeen-year-old Vivian (Viv) Spry is aching to figure out where she belongs. Her father has become emotionally distant and even her best friend has found a new sense of identity in her theater group. Unfortunately, nobody in her rural West Virginia town has time for an assertive, angry girl, especially a girl dubbed "Ice Queen" for refusing to sleep with her popular boyfriend. On top of everything, she discovers a strange ability to sense energy that really freaks her out. The only place Viv feels like it's safe to be her true self is the tree stand where her aunt taught her to hunt. It's the one place she still feels connected to the person who knew her best. So when fracking destroys the stand and almost kills her, Viv vows to find a way to take the gas company down.

When Dex Mathews comes to town—a new kid whose mom lands a job laying pipeline—his and Viv's worlds collide and a friendship (and maybe more?) slowly blossoms. But Viv's plan to sabotage the pipeline company could result in Dex's mom losing her job, putting them on the streets. Now Viv and Dex have to decide what's worth fighting for—their families, their principles, or each other.
Praise For Fault Lines…
"I read
Fault Lines
in one sitting; it's just that good. Riveting and real, including the magic. I only wish I'd written it myself."—
Han Nolan, National Book Award winning author of Dancing on the Edge
"Fault Lines is a lyrically rendered and stirring story of coming of age with the natural world and falling in love. Carpenter writes the people and region of Appalachia with unfailing grace and dignity. Her love for both makes every sentence gleam." 
—
Jeff Zentner, award-winning author of IN THE WILD LIGHT and THE SERPENT KING
"A love letter to the natural world, this story shows how dismantling beliefs calls for fight and fury, but also empathy and heart. Tough yet intuitive Viv shines as a complicated protagonist, and her connection with earnest Dex brims with hope—until they discover the devastating ways they are at odds. Honest in its exploration of the deep-rooted challenges of one rural community,
Fault Lines
is a masterpiece as breathtaking as our West Virginian forests. Empowering and sublime."—
Anuradha D. Rajurkar, author of American Betiya, a 2022 YALSA Best Fiction for Young Adults selection
"With an authentic lens and compelling prose,
Fault Lines
takes readers deep into rural America, where Carpenter navigates divisive topics with grace. Readers will appreciate the precise pacing, relatable characters, and abundance of empathy that
Fault Lines
has to offer. I absolutely loved this heartfelt novel."—
Kyrie McCauley, award-winning author of If These Wings Could Fly and We Can Be Heroes
"Viv's moral compass cracks her heart wide open. This immersive story of love, land, and identity will shake the ground and make you experience the world in a whole new way. In a time of social and political polarity,
Fault Lines
urges us to look deeply at what we're willing to put on the line for one another. Absolutely riveting. A social- and environmentally minded book for our present and future."—
Gloria Muñoz, award-winning author of Danzirly
Running Press Kids, 9780762480999, 384pp.
Publication Date: September 12, 2023
About the Author
Nora Shalaway Carpenter is a graduate of Vermont College of Fine Arts' MFA in Writing for Children and Young Adults program. Her debut YA novel, The Edge of Anything (A Kirkus Reviews Best Book of the Year, A Mighty Girl's Best Book of the Year, Cybils Awards finalist), was published by Running Press Teens in spring 2020. She's also editor and contributing author of Rural Voices (an NPR Best Book of the Year, a Junior Library Guild selection), and author of the picture book Yoga Frog. Before she wrote books, Nora worked as associate editor of Wonderful West Virginia magazine and has been a Certified Yoga Teacher since 2012. Originally from rural West Virginia, she currently lives in Asheville, North Carolina, with her husband, three young children, and the world's most patient dog and cat.