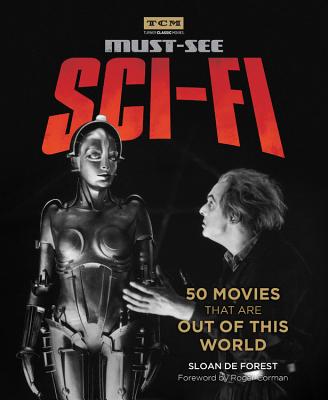 Must-See Sci-fi
50 Movies That Are Out of This World (Turner Classic Movies)
Paperback

* Individual store prices may vary.
Other Editions of This Title:
Paperback (10/10/2017)
Description
Spanning nine decades and branded by the most trusted authority on film, Turner Classic Movies: Must-See Sci-Fi showcases 50 of the most shocking, weird, wonderful, and mind-bending movies ever made.

From A Trip to the Moon (1902)to Arrival (2016), science fiction cinema has produced a body of classics with a broader range of styles, stories, and subject matter than perhaps any other film genre. They are movies that embed themselves in the depths of the mind, coloring our view of day-to-day reality and probably fueling a few dreams (and nightmares) along the way.
In Turner Classic Movies: Must-See Sci-Fi, fifty unforgettable films are profiled, including beloved favorites like The Day the Earth Stood Still (1951) and Fantastic Voyage (1966), groundbreaking shockers like Planet of the Apes (1968) and Alien (1979), and lesser-known landmarks like Things to Come (1936) and Solaris (1972). Illustrated by astounding color and black-and-white images, the book presents the best of this mind-bending genre, detailing through insightful commentary and behind-the-scenes stories why each film remains essential viewing. A perfect gift for any film buff or sci-fi fanatic!
Praise For Must-See Sci-fi: 50 Movies That Are Out of This World (Turner Classic Movies)…
This beautifully constructed resource displays each film in five to ten page chapters that include the original poster art, production credits, stunning film stills (in color when available), and an essay on the film's importance to the genre...De Forest takes exquisite care in presenting this list as a master guide to the enduring popularity of SF in the film industry.—Booklist (starred review)

"It's a bold move to call your movie guide "Must-See." You'd have to be pretty confident that every film mentioned from cover to cover is truly worthy of the moniker. Well, Sloan De Forest has nothing to worry about here, as Turner Classic Movies: Must-See Sci-Fi is a worthwhile trip through the history of science fiction, with b-movies, true game-changers, and underappreciated entries alike featured....This is the perfect book not only to introduce new viewers to some sci-fi classics of old but a tome that any sci-fi historian or film historian should have on the shelf."—Manhattan Book Review
Running Press Adult, 9780762491520, 280pp.
Publication Date: May 1, 2018
About the Author
Sloan De Forest is a writer, actress, and film historian who has written about film for Sony, Time Warner Cable, and Bright Lights Film Journal, among other outlets. She is the author of Turner Classic Movies: Must-See Sci-fi and a contributing author of Natalie Wood: Reflections on a Legendary Life and Grace Kelly: Hollywood Dream Girl. Sloan lives in Hollywood, CA.Turner Classic Movies is the definitive resource for the greatest movies of all time. We entertain and enlighten to show how the entire spectrum of classic movies, movie history, and movie-making touches us all and influences how we think and live today.