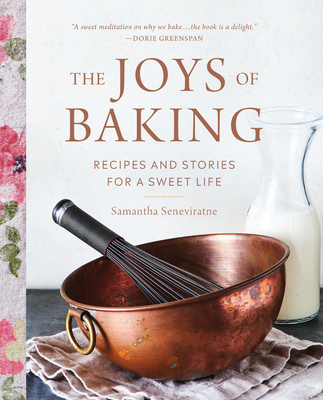 The Joys of Baking
Recipes and Stories for a Sweet Life
Hardcover

* Individual store prices may vary.
Description
Baking One's Way Through a Sweet Life, with Great Recipes
Cooking is a necessity-everyone needs to eat-but baking is different. No one needs a chocolaty cake or a delectable sweet to survive. That is, until that moment when a chocolate cake is exactly what you need to survive.
Author Samantha Seneviratne believes that every baking project begins with a spark-a desire, a craving, a memory, or a feeling-and through baking that spark is made real. Inspired by the gumption and charm of the classic, bestselling cookbook
The Joy of Cooking
, this cookbook focuses on the joys that make up everyday life and 75 ways to bake yourself back up when you feel like you've hit the bottom. Each chapter explores one of five themes and provides recipes paired with touching, humorous, and thoughtful essays and beautiful photos throughout.
Chocolate Cardamom Swirl Babka
Apricot Frangipange Phyllo Tart
Nectarine Galette with Sour Cherry Jam
Strawberry Rhubarb Cake with Bay and Orange
Coffee Crème Bundt Cake
For all the happy and joyous moments, for every stage of love, lovesickness, and everything in between, when you need a moment of comfort and solace, there's always dessert.
Praise For The Joys of Baking: Recipes and Stories for a Sweet Life…
The Joys of Baking is a sweet meditation on why we bake, on how what we make with our hands changes us, soothes, comforts and inspires us. Sam's generously personal stories and the collection of recipes she braids into them encourage us to bake, to pay attention as we stir and knead, and to reap each of the many pleasures she describes. The book is a delight.—DorieGreenspan, award-winning author of Everyday Dorie and Dorie's Cookies

The Joys of Baking bursts with ripe fruits and berries, dark, bittersweet chocolate, buttery tarts, whole grains, and creamy custards - in short, all of my favorite things to bake... and eat! Sprinkled with personal stories, Samantha Seneviratne's gorgeously photographed cookbook will fill anyone's sweet spot.—David Lebovitz, author of My Paris Kitchen and The Perfect Scoop

"It's not just the glorious recipes, it's her personal stories too--Sam shares her passion for baking and the physical and emotional benefits of baking."—-MarthaStewart.com

"Samantha covers a lot of ground - cookies, cakes, breads, pies - making this a lovely gift for a baker looking to discover new things."—-FoodNetwork.com

"Seneviratne interweaves the personal with the practical, often poetically, to show us how a simple baking project can help us find "joys, plural" even - and perhaps especially - when life gets messy."—-The Atlanta Journal-Constitution
Running Press Adult, 9780762492534, 208pp.
Publication Date: October 8, 2019
About the Author
Samantha Seneviratne is the author of The New Sugar and Spice, nominated for a 2016 James Beard Award, and Gluten-Free for Good. A frequent contributor to the New York Times and Food52, she has been an editor at Martha Stewart's Everyday Food, Fine Cooking, and Good Housekeeping, and her blog Love, Cake was a finalist at the 2015 Saveur Awards. Sam lives in Brooklyn with her son Artie.
or
Not Currently Available for Direct Purchase