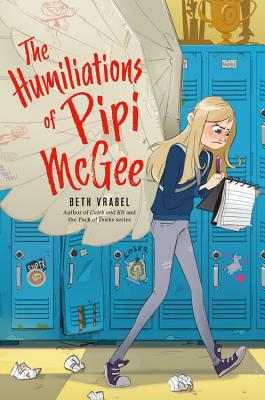 The Humiliations of Pipi McGee
Hardcover

* Individual store prices may vary.
Description
Award-winning author Beth Vrabel writes with humor and empathy about a girl who wants to shed her embarrassing moments before she leaves middle school behind her. The first eight years of Penelope McGee's education have been a curriculum in humiliation. Now she is on a quest for redemption, and a little bit of revenge.

From her kindergarten self-portrait as a bacon with boobs, to fourth grade when she peed her pants in the library thanks to a stuck zipper to seventh grade where...well, she doesn't talk about seventh grade. Ever.

After hearing the guidance counselor lecturing them on how high school will be a clean slate for everyone, Pipi--fearing that her eight humiliations will follow her into the halls of Northbrook High School--decides to use her last year in middle school to right the wrongs of her early education and save other innocents from the same picked-on, laughed-at fate. Pipi McGee is seeking redemption, but she'll take revenge, too.
Praise For The Humiliations of Pipi McGee…
"Recommended where there is demand for realistic, humorous fiction centered on girls coming of age."—School Library Journal

"Painful though they are, Pipi's trials neatly convey an authentic flavor of the commonplace agonies of middle school."—Kirkus

"Ready to gain redemption or exact revenge for her eight humiliations, Pipi McGee's choices will make you laugh out loud and cringe at the same time. Vrabel gives us a heartwarming story about learning to love ourselves, while recognizing we all have room to grow."
—Melanie Sumrow, author of The Prophet Calls, The Inside Battle

"Both hilarious and heartfelt, The Humiliations of Pipi McGee is for anyone who's ever felt invisible, made a mess of the best intentions, and wondered about their place in their own life. This book is for everyone. With sensitivity and respect, Beth Vrabel explores identity, family, friendship, and the emotional fall-out of bullying. Get ready to laugh, cry, cringe, and fall completely in love with Pipi McGee."—-Ashley Herring Blake, author of the Stonewall Honor book Ivy Aberdeen's Letter to the World

"Deftly balancing humor, heartbreak, and the uncomfortable realization that situations aren't always as simple as we might think, The Humiliations of Pipi McGee will speak to every reader who's ever dreamed of redemption-or revenge. A vibrant and thought-provoking read."—Cindy Baldwin, author of Where the Watermelons Grow

"Pipi McGee's story is as real and complicated as middle school itself. It's hurt and healing, betrayal and forgiveness, self-doubt and self-discovery. Thank you, Beth Vrabel, for this deeply moving and triumphant book."—Carrie Firestone, author of The Unlikelies, The Loose Ends List

"Beth Vrabel writes with an abundance of humor and heart and a keen understanding of both the trials and triumphs of growing up."—Jarrett Lerner, author of the EngiNerds series

"[S]ome set pieces are hilarious, the titular humiliations truly wince-worthy, and the supporting cast is chock-full of appealing characters."—Booklist
Running Press Kids, 9780762493395, 384pp.
Publication Date: September 17, 2019
About the Author
Beth Vrabel is author of the Cybils'-nominated Caleb and Kit, ILA award-winning A Blind Guide to Stinkville, JLG-selection A Blind Guide to Normal, The Reckless Club,and the Pack of Dorks series. She has received starred and positive trade reviews across the board for all of her novels and is active in school and library visits around the country. She and her family live in Canton, Connecticut.