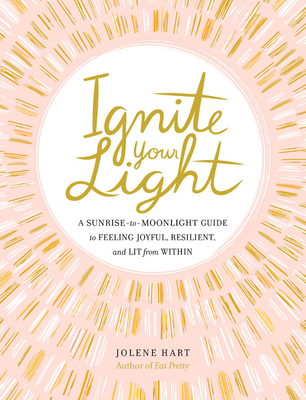 Ignite Your Light (Hardcover)
A Sunrise-to-Moonlight Guide to Feeling Joyful, Resilient, and Lit from Within
Running Press Adult, 9780762496143, 256pp.
Publication Date: April 7, 2020
* Individual store prices may vary.
Description
From the bestselling author of Eat Pretty comes this inspirational guided journal filled with self-care tips, nutrition-based beauty advice, self-reflection prompts, and key practices to create more beauty and joy in yourself and the world around you.
When you ignite the light of your personal energy, you feel more joyful, resilient, and lit from within.
Shine On
is your interactive guidebook to keeping that light illuminated through life's varied chapters and challenges, for yourself as well as those around you. It includes:
Guidance for assessing the thirteen key energy influencers that impact your life -- from relationships and environment to food, creativity, and mindset.
Dozens of prompts for self-reflection, with lined, dotted, and blank pages for recording your personal experiences, goals, and insights.
Science-based wellness wisdom that supports optimal beauty and health.
Fresh perspectives on nutrition as a key beauty tool.
Self-care ideas to replenish energy and grow your daily joy, from sunrise to moonlight.
Filled with colorful illustrations in a handy flexibound package,
Shine On
is a beautiful, practical, and thoughtful source of inspiration for self-reflection that helps us thrive.
About the Author
Jolene Hart, CHC, is a health coach certified by the Institute for Integrative Nutrition, a former magazine beauty editor, and founder of the coaching practice Beauty Is Wellness (jolenehart.com). She is the author of the bestselling Eat Pretty book series. Her work has been praised by InStyle, Martha Stewart Living, People, Refinery29, Mind Body Green, and many more publications in print and online. Jolene's coaching and writing looks at many areas of life, from stress, mindset, and hormones to diet, digestion, and personal care products, enabling readers to build a lifestyle that supports looking and feeling their best from the inside. She lives near Philadelphia, PA.
Praise For Ignite Your Light: A Sunrise-to-Moonlight Guide to Feeling Joyful, Resilient, and Lit from Within…
". . . the workbook of my spiritual dreams! Ms. Hart gives the reader a plan to
overcome the despair that is a result of chronic illness, random health
glitches, and the wild ride of hormone imbalance -- for starters! Jolene takes us
into her own experience, out of a hopeless darkness and into the light
with a plan that works, backed up with results! She debunks the fads, provides
delicious recipes, and guides the reader to use energy to heal. I am giving
this book to everyone I love. A must read!"



-Adriana
Trigiani, New York Times bestselling author of Don't Sing at the Table
and Tony's
Wife

"With vigor and impressive rigor, Hart presents 13 lifelong spurs to personal energy including relationships, interior spaces, breath, movement, food, colors, music, play, and laughter...Practical and poetic."—-Spirituality & Practice

"This guide is simultaneously deeply heartfelt and practical. I recommend it for anyone who is struggling to find their spark through a dark night, or simply wanting to shine brighter."—-Britta Plug, Aesthetician, Health Coach, and Founder of Wildling Beauty

"Ignite Your Light reminds us that beauty and health aren't just measured by the physical - that energy is their unseen foundation. This insightful book will show you how much your energy actually guides your daily life."—-Louise Roe, fashion journalist and author of Front Roe

"Ignite Your Light reflects our deep human desire, our birthright, to be happy and abundant. With simple, soulful practices that benefit your health and balance immensely, this book can truly help you live and stay in blissful alignment within yourself and thereby creating real joy, peace, and wealth in your own, special world. It's the book you didn't realize you needed until you are reading it and having incredible insights into your life!"—-Josh Rosebrook, founder of Josh Rosebrook Skin and Hair Care and meditation expert

"If you're looking to
change your life, energy is a great place to start. Ignite Your Light is the
guide that just might make you reconsider, or reinvent, your routine . . . beginning with your energy."

-Ezzie Spencer, author of Lunar Abundance