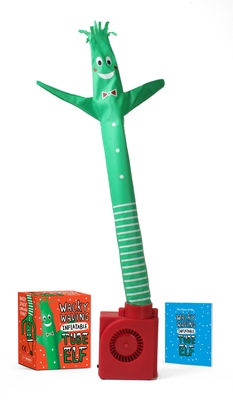 Wacky Waving Inflatable Tube Elf (RP Minis) (Paperback)
RP Minis, 9780762497874, 32pp.
Publication Date: October 6, 2020
Other Editions of This Title:
Board book (10/6/2020)
* Individual store prices may vary.
Description
Meet the Wacky Waving Inflatable Tube Guy's festive cousin: Tube Elf!

He's holly. He's jolly. He's perfect for gifting or for adorning your mantle this Christmas. He's the Wacky Waving Inflatable Tube Elf! Box includes:

A 17-inch waving tube elf with fan in base to let him wave, dance, flail, and spread cheer with you all holiday season
An illustrated mini book exploring the fascinating (imagined) origins of the mini tube elf
Never has so much joy come in such a small package.
PLEASE NOTE: This product can be powered by a 9-volt battery or by a specific AC adapter. (Battery nor AC adapter included with purchase.) Please read and follow the instructions included in the box to ensure optimal performance.
If using a battery:
A rechargable Ni-MH battery is recommended for best performance and is a more cost-effective alternative to a common Alkaline (single-use) battery.
If using an Alkaline battery, it must be NEW and preferably a PREMIUM brand.
DO NOT use a Carbon-Zinc battery (often labeled "Heavy-Duty"). This type of battery cannot produce enough power to operate the motor.
To get the most life out of the battery, use in intervals no greater than 5 to 10 minutes. Operating in this manner will yield approximately 45 minutes of use.
If your tube guy begins to get stuck in a downward position, it is time to replace the battery or recharge if using a rechargeable battery.
If using an AC adapter, it must follow the below specifications:
Input: AC 100-240V (50-60 Hz)
Output: DC 9V (1A or 2A)
About the Author
Sam Stall has authored or co-authored more than 20 books that span the realm of pop culture. Sam lives in Indianapolis with his wife Jami and their son, James.