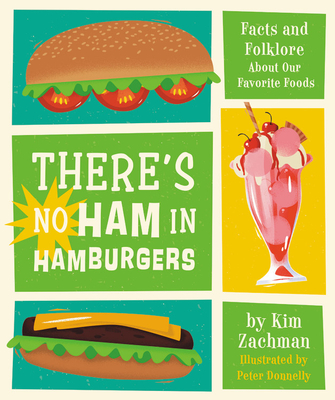 There's No Ham in Hamburgers
Facts and Folklore About Our Favorite Foods
Hardcover

* Individual store prices may vary.
Description
From hot dogs and hamburgers to ice cream and pizza, this fascinating book is full of fun facts and stories of the origins of some of America's most popular foods.

Why is there no ham in hamburgers? How did we make ice cream before we could make ice? How did hot dogs get their name? From the origins of pizza (which got a big boost from Clarence Birdseye, of all people) to the Cornell professor who invented chicken fingers, There's No Ham in Hamburgers has all the ingredients for an entertaining and educational middle-grade read. Packed with informative sidebars, recipes, and experiments, along with fabulously funny illustrations by Peter Donnelly, this book is a reading recipe that kids will sink their teeth into!
Praise For There's No Ham in Hamburgers: Facts and Folklore About Our Favorite Foods…
"Accessible and engaging…. A high-interest, tasty treat."—Booklist

"Told in a breezy, conversational style, the book walks readers through the often surprisingly far-ranging history and folklore of favorite foods from pizza to peanut butter. A good choice for any young gourmand's bookshelf." —Kirkus Reviews

"This title would be a great addition to classes studying food and nutrition. Some parts can even be used in chemistry class. It would also be great a supplement when discussing how an idea or invention is created and then morphs over time, especially when the impact of a changing culture is considered."—School Library Connection

"Delightfully described and illustrated with amusing cartoon characters, this account of familiar foods engagingly combines history with the immigration story . . . . Add this selection to home, school, and office; for both young and old to savor as it holds a treasure of pleasure."—San Francisco Book Review

"An excellent and fun read for any kid or adult foodie."—School Library Journal

"Scientific concepts appear in highlighted text boxes and include an explanation for why chips become stale and how milk chocolate requires overcoming the tendency for oil and water to separate. At least one recipe also doubles as an easy experiment, inviting readers to measure the temperature of ice before and after making ice cream . . . . [R]eaders of all ages are likely to learn something new about food."—Science magazine
Running Press Kids, 9780762498079, 144pp.
Publication Date: April 6, 2021
About the Author
When Kim Zachman was a kid, she drove her parents crazy asking "Why?" She still asks a lot of questions, and when she finds fun, fascinating answers, she writes about them. She lives in Roswell, Georgia, with her husband, two teenage daughters, and their almost-perfect dog.

Peter Donnelly is an award-winning illustrator who is influenced by midcentury design, folk art, and vintage print. He lives and works in Ireland.