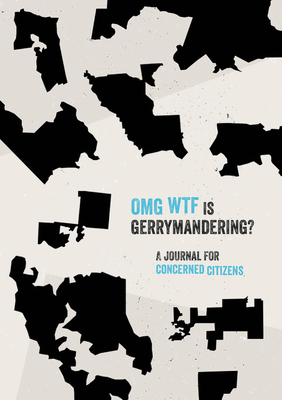 OMG WTF is Gerrymandering?
A Journal for Concerned Citizens
Diary

* Individual store prices may vary.
Description
Keep track of your thoughts and ideas while also learning about why gerrymandering sucks.

With a sleek design and durable binding, this practical journal combines generous space with outlines of absurd-looking U.S. House districts from across the country. Complete with facts about gerrymandering -- what it is, how it began, who does it -- you'll learn about why certain federal, state, and local elections are predetermined before they happen (and how this cheating can be stopped).
With useful information drawn from
OMG WTF Does the Constitution
Actually
Say?
, this journal features:
Full-color illustrated flexi binding
Explanations of why some districts are so oddly shaped
Lines and blank interior pages, printed on wood-free paper
Ways you can fight gerrymandering at the federal, state, and local levels
Black Dog & Leventhal, 9780762498451, 128pp.
Publication Date: April 14, 2020
About the Author
Ben Sheehan is a former award-winning executive producer at Funny Or Die. He founded OMG WTF (Ohio, Michigan, Georgia, Wisconsin, Texas, Florida) to teach voters about state executive races during the 2018 midterms. The Hollywood Reporter listed him as one of entertainment's 35 Rising Executives Under 35 and OMG WTF's Gerrymander Jewelry was a finalist for Fast Company's World Changing Ideas 2019. In 2016, he helped register 50,000 voters through digital videos as the executive director of Save the Day. The projects he's been involved with have received over a billion views.
Arielle Yuspeh is a political consultant based in Los Angeles. A former creative director at the intersection of film and social impact, she transitioned into politics where she ran congressional races and field operations (including those in key swing states for presidential campaigns). In addition to having served on the boards of several non-profits, Arielle currently works as a political strategist specializing in policy issues and ballot initiative campaigns. She co-created Gerrymander Jewelry to highlight the absurdity of how many states draw their congressional and state legislative district lines.

or
Not Currently Available for Direct Purchase