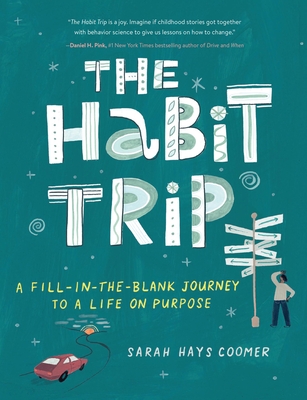 The Habit Trip
A Fill-in-the-Blank Journey to a Life on Purpose
Paperback

* Individual store prices may vary.
Description
Live a life of motivation and purpose with The Habit Trip, an active journey to self-discovery, one micro-change at a time!
When something feels wrong, your routines are a mess, and nothing is working, you want to make a change. The impulse is to go big: start a ten-day fast. Work out five times a week. Quit your job, end your marriage, and move to Dubai -- raze it all to the ground. But those drastic efforts tend to fizzle out before they've even begun.
The Habit Trip
maps the topography of who you are and what you love, revealing a personalized infrastructure for well-being that is hiding in plain sight.
The journey is divided into three sections:
The Situation: evaluate your life in ten areas to identify what's working and what's not
The Solution: find micro-doses of solace and strength to bolster your health and stability
The Payoff: amplify the power, peace, and presence that comes with knowing what matters most
The Habit Trip
is an actionable antidote for stress and frustration, nestled inside of an interactive workbook in which you are the one and only expert. By the end of your rollicking journey (accompanied by a host of enchanted creatures), you'll have charted an easier way to roll through the joyful chaos of life, one habit at a time. Your challenges, your solutions, your way.
Praise For The Habit Trip: A Fill-in-the-Blank Journey to a Life on Purpose…
"In The Habit Trip, Sarah Hays Coomer reveals a refreshing new way to approach positive change: listening to your gut, your heart, and your inner voice. If you've ever wanted the process of change to feel more playful, joyful, and rooted in self-trust-not self-criticism-this guide will show you the way."
—KellyMcGonigal, Ph.D., author of The Willpower Instinct and The Joy ofMovement

"The Habit Trip is a fresh perspective on ways to consider, measure, and ultimately change the many micro-habits that shape our lives. Coomer does an incredible job weaving together science, narratives, and her own journey in this compelling and highly practical book, which actively invites the reader to engage. I recommend it to anyone who wants to make changes to their keystone habits."—BenMichaelis, Ph.D., author of Your Next Big Thing

"The Habit Trip is a joy. Imagine if childhood stories got together with behavior science to give us lessons on how to change."—Daniel H. Pink, #1 New YorkTimes bestselling author of Drive and When

"The Habit Trip is a choose-your-own-adventure guide to help us identify how to boost our well-being. Through engaging ideas and tools Sarah Hays Coomer guides us to answer the very questions that underlie the quality of life we all yearn to achieve. If you are ready to feel and live better, The Habit Trip will quickly launch you on to this inspiring path."—Michelle Segar, Ph.D.,MPH, author of No Sweat: How the Simple Science of Motivation Can BringYou A Lifetime of Fitness
Running Press Adult, 9780762498987, 224pp.
Publication Date: December 1, 2020
About the Author
Sarah Hays Coomer is a Mayo Clinic and National Board Certified Health & Wellness Coach, a Certified Personal Trainer with the National Strength and Conditioning Association, and a Prenatal Fitness Specialist with the American Fitness Professionals & Associates. Sarah is the author of two previous books: Physical Disobedience: An Unruly Guide to Health and Stamina for the Modern Feminist (2018) and Lightness of Body and Mind: A Radical Approach to Weight and Wellness (2016). Her work has been featured in Shape, MSN, Thrive Global, the Wall Street Journal, New York Daily News, Huffington Post,UTNE Reader, Bustle, andthe Tennessean, among others. She lives in Nashville, Tennessee.