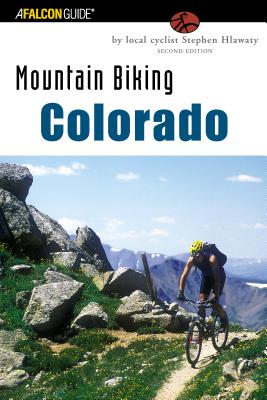 Colorado (Paperback)
Falcon Press Publishing, 9780762712250, 416pp.
Publication Date: July 1, 2003
* Individual store prices may vary.
or
Not Currently Available for Direct Purchase
Description
Where else can mountain bikers complement a day's bike ride with a dizzying glissade down a mid-August snowfield? Where else can they descend nearly 40 miles through five biogeographical zones? Where else can they catch a major league game and be ripping along rocky singletrack 30 minutes later? Colorado, that's where. Snow in August, lighting above timberline, and 100 degree desert temperatures are all to be expected in the sport of Colorado mountain biking. As the country's highest state, Colorado offers its mountain bikers a unique perspective into the sport and raises the bar for all who ride. Under the expert guidance of local cyclist Stephen Hlawaty, come admire the beauty and revere the majesty that is Colorado. From this newly revised book, cyclists can expect exhaustive and comprehensive trail descriptions of more than 50 of the state's greatest mountain bike adventures, from beginner to advanced. Included are GPS-quality, digitally designed relief maps, and accurate route profiles showing the ups and downs of each ride. In addition, detailed directions get cyclists to the ride without getting them lost. Detailed mile-by-mile directional cues are also provided with difficulty ratings, elevation gain, trail contacts, and much more. More than 60 photographs round out this book's presentation. It's not just a mountain bike guide to Colorado. It's a guide to Colorado by mountain bike.
About the Author
Originally from Queens, New York City, Stephen Hlawaty has since set camp in Colorado's Rocky Mountains. After receiving his Master of Arts degree in English from the University of Northern Colorado, he embarked on his freelance writing career, publishing his work in Rocky Mountain Sports Magazine, Outdoor, Skier, Steamboat Springs Magazine, Scene, Boulder Weekly and Real Life. He is also the author of Mountain Biking Colorado's Front Range (Falcon, April 2003).
Praise For Colorado…
"Anyone who rides a mountain bike, and wants to ride it in Colorado, needs this book. The amount of detail compiled by the author Stephen Hlawaty was a labor of love, and it shows. The maps, trail directions, local lore, plus a solid listing of local telephone numbers for more information, makes this book a must for the traveling cyclist."
-- Bike Magazine

"Mountain Bike America Colorado is setting a new standard for guidebooks."
--Mountain Bike magazine

"If it's not in here, it's not worth riding."
--Outdoor Explorer
Advertisement