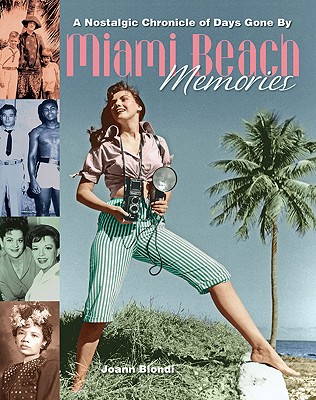 Miami Beach Memories (Hardcover)
A Nostalgic Chronicle of Days Gone By
Globe Pequot, 9780762740666, 192pp.
Publication Date: November 1, 2006
* Individual store prices may vary.
Description
Miami Beach Memories: A Nostalgic Chronicle of Days Gone By is an oral history of the people and events that shaped this tropical island from the 1920s through the 1960s. To create this engaging and accessible volume, Biondi interviewed 101 residents, from maids and taxi drivers to burlesque strippers, convicted criminals, and famous actors and comedians. Their memories form a vivid portrait of life in the island's "Golden Era," one marked by incredible cultural and social changes. In addition, hundreds of black-and-white archival photos, some by famous celebrity photographer Ray Fisher, bring these voices and Miami Beach's history to life.

 
About the Author
Joann Biondi has written ten books, in addition to numerous magazine and newspaper articles. Her travel articles on Miami and its vast cultural diversity have appeared in the "New York Times, ""National Geographic, Travel & Leisure, " and "Conde Nast Traveler." Biondi is also an adjunct professor at Miami Dade College, where she teaches cultural geography.
Praise For Miami Beach Memories: A Nostalgic Chronicle of Days Gone By…
The Miami Herald, by Margaria Fichtner
"To the rest of the world, Miami Beach may be an exotic sliver of terra not-so-firma, a shimmering, neon-bilious dream, but to the people who lived and worked there in the more-or-less early days, from the 1920s to the 1960s, it was a stage-set paradise, its landscape rippling with stories: happy stories, horrifying stories, stories to make you laugh, gasp, weep.

"This book, which includes memories of more than 100 residents and visitors—the famous and the in-, is a scrapbook of fragments, words and images, including a photo of crime novelist Edna Buchanan as a belly dancer that by itself is almost worth the jacket price.

"Here we have ex-jewel thief Jack "Murph the Surf" Murphy on working odd jobs at Beach hotels. Cookbook superstar Maida Heatter on her two-week love affair with Maurice Chevalier. Hot Honey Harlow on ex-husband Lenny Bruce. Stockbroker Everett Lassman on the time Elizabeth Taylor sat in his lap. A few miffed former pals of Larry King on the money he still owes them. Angelo Dundee on Cassius Clay's announcement that he had become a Muslim: "Who the hell knew what a Muslim was back then? I thought it was a piece of cloth." There are plenty of the usual big names—Sinatra, Gleason, Sammy Davis Jr., Joe Kennedy, Gloria Swanson, Barbara Walters, The Beatles—plus lots of little names and some fascinating no-names, too.

"The place had sunlight and the skittery lullaby of swaying palms, but it also had the sort of rhythm and vibe that scrambled the senses, that inflated possibilities and embraced paradox. Where else would Desi Arnaz and Sonny Capone have become high-school classmates? Or the honeymooning Fidel Castro show up the same year as Isaac Bashevis Singer? Where else would Meyer Lansky have blended in so well with other polyester retirees taking their dogs on a morning stroll?"


NBC 6 South Florida, by Ike Seamans"The in-crowd that frequents Miami Beach today thinks that they invented cool. But long before they were ever a gleam in their father's eye, the Beach was a very happening place for swingers. As far back as the 1920s, when the Beach was wide open, it attracted everyone from college kids to movie stars to gangsters.

"Author Joann Biondi has captured the essence of Miami Beach—both good and bad—in her new book, Miami Beach Memories, a collection of priceless pictures and an unprecedented oral history of the place. From the biggest names to just folks. How about the time Al Capone showed up at Joe's Stone Crab restaurant with a woman who was not his wife?

"Biondi also reveals Miami Beach's dark side through oral histories like those of a woman who worked as a maid in the 1930s, and a lot of Miami Beach residents tell of shocking anti-Semitism of not too long ago.

"There have been many books written about Miami Beach's fabled history but few have centered on the folks who actually lived there. Well that's all changed. Miami Beach Memories is truly a unique book and nothing quite like it has ever been written before."


La Gaceta, Tampa, by Ferdie Pacheco, columnist and author of Blood in My Coffee"What a wonderful read. What a delightful tribute to the golden days of Miami Beach. Biondi's writing is perfect for the subject and one of the biggest pluses are the many excellent photographs. As in most of this riveting book, I felt my emotions glued to the page. I came fresh out of the Air Force to start medical school in Coral Gables, and the first Sunday off I drove to Miami Beach. This was where I would spend the rest of my life. I lived in paradise yet didn't know it. Thanks to Biondi, I sit in my library, my memories tumbling all over re-living an exciting time with this treasure of a book."


Florida Forum, WXEL radio
"A fabulous book that I could not put down. I devoured every page."

Downtown Dade, Miami-Dade TV
"What an amazing, fun and fascinating book. So often there is a tendency to rose tint South Florida history. But this book is straightforward with the anti-Semitism and racism that was rife on the Beach in early days. It gives you several sides to the story."

Ft. Myers News-Press
"Miami Beach evokes different things for different people. For teens, it's South Beach, Paris Hilton and J-Lo. For their parents, it's Miami Vice and the Miami Sound Machine. For Granddad, it will always be the Fontainebleau, Jackie Gleason and the Rat Pack.

"In many ways, Miami Beach has been a microcosm of 20th century America. From its beginnings as a mosquito-infested barrier island, through the wave of immigrants, to its heyday as a swinging sixties hot spot, to its decline and eventual rebirth as an international party zone, "The Beach" has survived and prospered, sometimes in spite of itself.

"Although the Beach would eventually become America's playground, it was far from idyllic for many who worked there. African-American workers, without whom this particular paradise would not have been possible, had to be off the island by sundown. Anti-Semitism was equally rampant, ironic for a destination that would one day boast a large Jewish population, and South Beach was virtually a Jewish ghetto.

"In Miami Beach Memories, Miami oral historian Joann Biondi retraces the improbable history of the Beach through 101 interviews with those who lived it, from hotel maids and restaurateurs to developers and celebrities such as Sheila MacRae, Rose Marie, Shecky Greene, and Shelly Berman."


Food and Wine Talk, WDNA 88.9 Jazz in Miami.
"Joann Biondi digs beneath the skin-deep radiance of Miami Beach and chronicles the good and the barbaric through the words of graying contemporaries in the tradition of Studs Terkel."

Miami New Times
"When journalist Joann Biondi began writing Miami Beach Memories, she knew she had a sprawling, extraordinary project on her hands. Her goal was to depict a full and clear picture of the evolution of Miami Beach into the South Beach we know today, and to reveal the star power that our sandy stretch attracted long before many contemporary stars were even born. Biondi interviewed a cross-section of the region's society, the haves and the have-nots of Miami Beach's formative years, and many of the people she interviewed were open with their recollections, however painful. It's strange to think that the same South Beach that is a Mecca for hip-hop celebrities today was once so segregated."

Mitchell Kaplan, Chairperson, Miami Book Fair International.
"Joann Biondi is not just a wonderful writer, she also has a terrific ear for capturing the perfect quote and story. I grew up in Miami Beach and I learned many things from this book that I never knew."
or
Not Currently Available for Direct Purchase