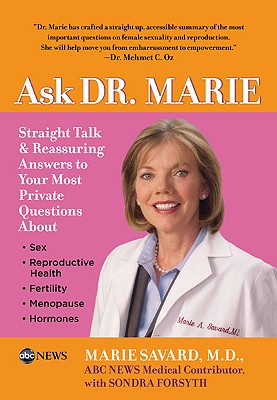 Ask Dr. Marie (Hardcover)
Straight Talk and Reassuring Answers to Your Most Private Questions
GPP Life, 9780762749447, 352pp.
Publication Date: August 1, 2009
Other Editions of This Title:
Paperback (9/14/2010)
* Individual store prices may vary.
Description
of America's most trusted voices on women's health explains what's what, what's normal, and what to do when problems occur.
About the Author
Marie Savard, M.D., medical contributor for ABC News, is one of America's most trusted voices on women's health, wellness, and patient empowerment. She is the author of "The Body Shape Solution to Weight Loss and Wellness" and two books also written with Sondra Forsyth: "How to Save Your Own Life: The Savard System for Managing--and Controlling--Your Health Care" and "The Savard Health Record." Sondra Forsyth, an award-winning journalist specializing in women's issues, including health, sexuality, and relationships, is the author or coauthor of eleven books and numerous articles in major magazines.
Praise For Ask Dr. Marie: Straight Talk and Reassuring Answers to Your Most Private Questions…
"Best Health Books of 2009" Selection- The Wall Street Journal "Dr. Marie has crafted a straight up, accessible summary of the most important questions on female sexuality and reproduction. She will help move you from embarrassment to empowerment."—Dr. Mehmet C. Oz, author of Healing from the Heart and coauthor of the best-selling YOU: The Owner's Manual 
Library Journal;  Savard, Marie, M.D. Ask Dr. Marie: Straight Talk & Reassuring Answers to Your Most Private Questions. Globe Pequot. Aug. 2009. c.352p. illus. index. ISBN 978-0-7627-4944-7. $24.95. HEALTH
In this medical guide for women, Savard, medical contributor for ABC News and an internist specializing in women's health, addresses basic anatomy and physiology, sexuality, and the importance of health care. She examines life stages and the accompanying bodily changes: puberty, childbirth, and menopause. The book's final sections cover the brain/body connection and such common health problems as urinary tract infections and digestive ailments. She also discusses the differences between men and women as they age and takes a liberal approach to hormone replacement therapy, arguing that perimenopausal women with no risk factors can take HRT and FDA-approved bioidentical skin patches safely.
Verdict While less comprehensive than Our Bodies, Ourselves, this book takes a conversational tone and employs a supportive approach that will appeal to women in need of basic information.—Barbara M. Bibel, Oakland P.L., CA
Book launch on Good Morning America: http://abcnews.go.com/video/playerIndex?id=8246221
"For this book, Marie Savard draws on a lifetime of head-smart and heart-felt experience in caring about and for women. And she knows how to communicate in a manner that is both informative and supportive. Information that is both accurate and understandable—a winning combination."—Dr. Timothy Johnson, ABC News Medical Editor 
"I continue to marvel at Dr. Marie's ability to break complex medical issues into digestible, easy-to-understand nuggets. Her care and concern for women is evident and women are better for it."  -- Rene Syler, Journalist and author of Good Enough Mother
"Dr. Marie is one of America's most trusted voices in women's health, and her ability to make complex topics simple and understandable has made her my go-to person for health information."
--Marissa Jaret Winokur, Tony Award-winning actress
or
Not Currently Available for Direct Purchase