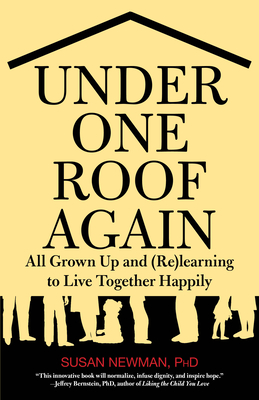 Under One Roof Again (Paperback)
All Grown Up and (Re)Learning to Live Together Happily
Lyons Press, 9780762758593, 230pp.
Publication Date: June 1, 2010
* Individual store prices may vary.
Description
As nest eggs shrink, parents are moving in with their adult children and grandchildren in record numbers. Similarly, with jobs scarce and unemployment high, more and more adult children, be they recent college grads (77% of them in 2009) or on their own for a while, are returning home to their parents. Under One Roof Again squarely addresses the inevitable and sensitive issues--from money matters to boundaries--that arise when formerly parent-child relationships become adult-adult ones. Drawing on her own research with family members already living together and on academic studies, social psychologist Susan Newman, a leading authority in the family relationship and parenting fields, provides solid advice for avoiding the snags and building stronger family ties when family members rejoin each other for long or short time periods.
About the Author
Susan Newman, PhD, is a recognized authority in the field of family relationships and parenting. She maintains a blog about parenting for Psychology Today magazine, and is the executive editor of Elder Care Solutions, a newsletter devoted to elder care distributed to national corporations, government offices, and major companies, as part of Work & Family Life. She is the author of 13 nonfiction books, including several classics in the family/parenting field, and toured extensively for them, appearing on national and local television and radio, including The Today Show, Good Morning America, 20/20, Larry King Show, NPR's Talk of the Nation, NBC Nightly News, ABC News, CBS News, CNN, FOX, and more. Her work has also been featured in the country's leading syndicated columns, as well as in national magazines. She has two Web sites (www.susannewmanphd.com and www.thebookofno.com) and is regularly featured as a parenting expert on The Learning Channel--Surviving Motherhood, Nickelodeon, and Moms Club Web sites. Her articles and blogs can be found online at grandparents.com, babycenter.com, about.com, iVillage.com, webmd.com, etc.
Praise For Under One Roof Again: All Grown Up and (Re)Learning to Live Together Happily…
In her author's note, Newman (The Book of No, Parenting an Only Child) compares the mystery of functioning families to the splitting of the atom and the prevention of global warming. Living in harmony with one's returning child and/or family or one's parents is about as complicated. To help with the resurgence of this phenomenon, Newman offers practical considerations, from protecting privacy and sticking to food preferences to dealing with money and respecting others' time. Verdict: Newman covers all the bases, and her book is essential reading for those facing this situation. Following her advice can make the difference between enjoying the richness of another generation or simply tolerating it."
Library Journal (starred Web review)
A how-to' guide for every imaginable glitch that can and will arise. [Newman] makes it seem fun, adventurous, and a compassionate journey full of surprises, joys."
William Poy Lee, author of The Eighth Promise: An American Son Pays Tribute to his  Taiwanese Mother
Susan Newman provides a master class in establishing boundaries, setting realistic expectations, handling the reversion into childhood roles, and guilt."
Sharon Naylor, author of Home from the Honeymoon
This innovative book will normalize, infuse dignity, inspire hope."
Jeffrey Bernstein, PhD, author of Liking the Child You Love
Wonderfully insightful and comprehensive."
Susan Ginsberg, EdD, editor/publisher of Work & Family Life Newsletter
[A] down-to-earth, straightforward book . . . [that] deals with the sensitive issues."
Allan Zullo, coauthor of A Boomer's Guide to Grandparenting  
Dr. Newman's message is reassuring and reverses the conventional wisdom that coming home is a burden."
Irene S. Levine, PhD, Professor of Psychiatry, New York University School of Medicine, author of Best Friends Forever
"They're baaaaaaaaack! Fortunately, life with your grown-up kids returned home doesn't have to be a horror movie—at least, not after you read this book! (And, of course, after you leave it next to the milk and cookies for when the dear ones get home.)"
—Lenore Skenazy, founder, freerangekids.com and author of
Free-Range Kids
"In Under One Roof Again, Dr. Susan Newman provides well researched, detailed, insightful, and empowering advice to all parties of the 'back living at home again' equation. This long overdue, up-to-date, innovative book will normalize, infuse dignity, inspire hope, and offer concrete expert advice for the ever-changing needs of the dynamically evolving, all-too human institution called 'family.' I highly recommend this outstanding book to all families facing the demands and challenges of having loved ones of all ages who return home."
—Jeffrey Bernstein, PhD, licensed psychologist, author of 10 Days to a Less Defiant Child and Liking the Child You Love
"This book  is such a timely, helpful and upbeat guide for the many parents and children who find themselves living together again. Newman, by interviewing hundreds of subjects, has put her finger on the essential things they need to know. She offers guidelines for attitude changes; the available options in many situations, such as time and money dilemmas; and covers each person's expectations and gives you helpful clues to what your family members may be thinking. A really important aid for families in this situation, guaranteed to help them create a comfortable and mutually happy situation out of dire necessity."
--Tina B. Tessina, PhD, (aka "Dr. Romance") psychotherapist and author of Money, Sex and Kids: Stop Fighting about the Three Things That Can Ruin Your Marriage
"Dr. Susan Newman has written a compelling guide for parents and their adult children who are faced with the new family dynamics of all living together. During these difficult times, her down-to-earth, straight-forward book deals with the sensitive issues that crop up in unanticipated living arrangements. Her insights and advice, especially involving multi-generational households, offer reassurance and guidance to turn these changing relationships into stronger, more loving family units.   
--Allan Zullo, co-author, A Boomer's Guide to Grandparenting 
"In 21st Century America, where many adults, sometimes with kids in tow, find themselves moving back in with their parents, here comes a loving, practical, and well-paced book on how several generations can successfully live together—again. Susan Newman not only provides a "how-to" guide for every imaginable glitch that can and will arise, but she makes it seem a fun, adventurous, and compassionate journey full of surprises, joys, and challenges where families will work things out lovingly—for family love endures while other loves dissipate or break down. There's no notion of reentry failure here, for as Dr. Newman points out, multigenerational American families were once the norm and it's the post-World II nuclear family that is the anomaly.
         As a Chinese American, multigenerational households are familiar territory. Still, I know its tricky business and even I would want this book sitting front and center on our living room coffee table if I were to live this way again. And one on the breakfast table and another on the bookshelf and yet another in...in fact, everyone under my roof must have their own well-thumbed copy!
--William Poy Lee, author of The Eighth Promise: An American Son Pays Tribute to his Toisanese Mother
or
Not Currently Available for Direct Purchase