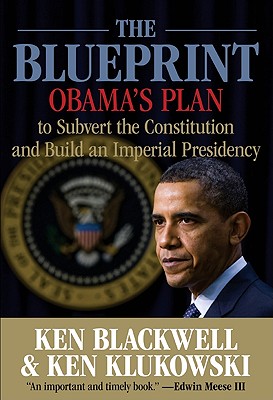 The Blueprint: Obama's Plan to Subvert the Constitution and Build an Imperial Presidency (Hardcover)
Obama's Plan to Subvert the Constitution and Build an Imperial Presidency
Lyons Press, 9780762761340, 304pp.
Publication Date: April 1, 2010
* Individual store prices may vary.
or
Not Currently Available for Direct Purchase
Description
In this urgent and unsettling book, leading conservative Ken Blackwell and constitutional attorney and journalist Ken Klukowski expose President Barack Obama's blueprint. They identify a pattern of unconstitutional acts that form Obama's plan to build a big-government collectivist society on the ruins of our Founding Fathers' nation. It's coordinated. It's dangerous. And it's real.
About the Author
Ken Blackwell, one of America's leading conservative voices, is the author of "Rebuilding America" and is currently a senior fellow with the Family Research Council and the American Civil Rights Union. He has served as Ohio's state treasurer and secretary of state, mayor of Cincinnati, undersecretary at the U.S. Department of Housing and Urban Development, and U.S. Ambassador to the United Nations Human Rights Commission. Co-chair of the Republican National Committee's Redistricting Committee, he is on the board of directors of the National Rifle Association, the Club for Growth, the National Taxpayers Union, and the Ashbrook Center for Public Affairs. Blackwell is a contributing editor for Townhall.com, and his columns appear in the "Wall Street Journal," "Washington Times," "New York Post," "American Spectator, ""American Thinker," "World Magazine," and on NationalReview.com and FoxNews.com. Ken Klukowski is a constitutional lawyer and journalist whose work is published by FoxNews.com, BigGovernment.com, and Townhall.com, as well as some of America's most influential newspapers. He is a fellow and senior legal analyst with the American Civil Rights Union. A published scholar on constitutional issues, Klukowski authors briefs with the Supreme Court regarding First Amendment and Second Amendment cases and lectures across the country at law schools.
Praise For The Blueprint: Obama's Plan to Subvert the Constitution and Build an Imperial Presidency…
"The reader will find nuggets of information [in The Blueprint] that are in fact 'sensational.' . . .  Mr. Klukowski and Mr. Blackwell see an administration pushing for international regulation of economic activity and the breakdown of state sovereignty. . . . If Mr. Obama is re-elected, this book predicts 'we will not only have the most liberal [Supreme] Court, but it will be the most liberal in history. And we will have this liberal Court for at least a quarter-century.' If that alone doesn't galvanize the right, it's difficult to fathom what will."
—Washington Times
"With their characteristic style, Ken Blackwell and Ken Klukowski offer compelling arguments and insights demonstrating that much of President Obama's agenda undermines our Constitution and America's system of limited government that keeps us free. An important and timely book."
—Edwin Meese III, Former Attorney General of the United States and Counselor to President Ronald Reagan
"Ken Blackwell and Ken Klukowski do an outstanding job showing how much of President Obama's agenda, which is undermining America's families, also violates our constitutional rights. This is a must read!"
—Tony Perkins, President of the Family Research Council
 
"The Blueprint proves beyond a doubt that much of Barack Obama's power grab is more than just terrible for our economy; it's unconstitutional. Share this book with your friends."
—Steve Forbes, Chairman and CEO of Forbes Media, and former presidential candidate
Advertisement