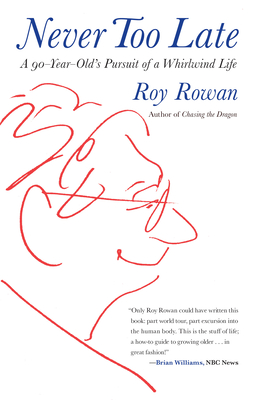 Never Too Late: A 90-Year-Old's Pursuit of a Whirlwind Life (Hardcover)
A 90-Year-Old's Pursuit of a Whirlwind Life
Lyons Press, 9780762763764, 228pp.
Publication Date: April 1, 2011
* Individual store prices may vary.
or
Not Currently Available for Direct Purchase
Description
Libraries are filled with volumes containing recipes for growing old gracefully. Most of them are based on mountains of research and statistics. Career correspondent and author Roy Rowan read many of these books, and found in them some good advice. Never Too Late is no such manual. It is simply one man's views of the pleasures and potentials of old age based on a long life of adventure as a correspondent for the world's leading magazines and the lessons learned along the way from diverse groups of people, from the world's most powerful leaders to some of the world's most hapless individuals. Rowan interweaves quotes from experts in gerontology and other sage writers with his own experiences and insights. He addresses a spectrum of topics, including the subjectivity of the label "old," the importance of optimism, and the fight to maintain independence as the years go by. He also encourages retirees to start a second career or activity, naming the Three E's of Enthusiasm, Exertion, and Energy as the keys to pursuing a new passion.
About the Author
Roy Rowan is a career correspondent for Time, Life and Fortune and the author of ten books including Chasing the Dragon (Lyons Press; forthcoming as a major motion picture). Visit him at RoyRowan.com."
Praise For Never Too Late: A 90-Year-Old's Pursuit of a Whirlwind Life…
"Only Roy Rowan could have written this book: part world tour, part excursion into the human body. From war zones to political conventions, from baseball to anti-inflammatories, from Mao to Mark Twain, this is the stuff of life, and a how-to guide to growing older . . . in great fashion!"
            —Brian Williams, NBC News
"Roy Rowan is not exactly like you and me: he fought in one war and covered three others, palled around with Presidents, ran the New York marathon, and survived three cancers. But out of all these adventures and crises, he has written a book that is marvelously beneficial to every one of us on the far side of middle age. Do not go gentle, he insists, but live with the three E's, Enthusiasm, Exertion, and Energy. If you do, Scouts Honor, you'll move up the alphabet to wonder years of Pride, Productivity, and Passion."
            —Richard B. Stolley, founding editor People magazine and senior editorial adviser, Time Inc.
"Want to learn how to age gracefully and have a great retirement? Then this is NOT the book for you! Roy Rowan, a great journalist, offers instead delightful tales and lessons about having a feisty and active old age. It's both a charming memoir and a fountain of insight for anyone who plans to live until at least 100."
            —Walter Isaacson, president of the Aspen Institute, author of Steve Jobs
"Roy Rowan pictures old age not as sedentary geezerdom, but as a journey of discovery, recalling his own wondrous trips abroad. He winds back and forth between primer and memoir, offering lessons for living a fruitful exciting life in the post-retirement years."
           -- Fortune review by Shawn Tully
"Nonagenarian Roy Rowan shows that it's Never Too Late to cut loose."
               --Vanity Fair
"A longtime war correspondent with a yen for adventure, Roy Rowan has lost some of his wind but none of his zest as he gallops into his tenth decade. He mixes advice with anecdote in a bid to inspire others in a congenial and entertaining read."
           --AARP Magazine review by Julia M. Klein
"Tips on aging—live with the three "E"s (enthusiasm, exertion, and energy").
                     --People
"A legendary Time journalist recalls memorable interviews as he faces up to old age."
                     --Entertainment Weekly
"You can't be too old—or too young—not to enjoy
Never Too Late.
Roy Rowan's advice to us pre-Boomers isn't just uplifting. Even better: it's downright practical."
            —Frank Deford, author of Bliss, Remembered
"Rowan says the most important thing is to keep active and never stop doing what you love. He peppers the book with quotes from a variety of well-known people:
            "We don't get older, we get riper"---Pablo Picasso
            "How old would you be if you didn't know how old you was?"---
                               Satchel Paige
"If I'd known I was going to live this long, I would have taken better care of myself"---Eubie Blake.
         --Hartford Courant Review by Susan Dunne
"There's enough adventure in this book to keep your heart pounding deep into your senior years. As an accomplished field reporter and journalist, Roy Rowan has seen the front lines of combat, talked with dictators and lived (temporarily) as a vagabond to report on our homeless problem. And this book captures all of his energy, spirit, curiosity, and wisdom. It's packed with vivid stories, wonderful quotes, and wise comments that show how growing old can be just as exciting and fulfilling as any other part of living. I hope I'm like Roy Rowan when I'm ninety. He rocks. And we can, too. It's a wonderful read."
            —Helen Fisher, anthropologist Rutgers University, author of Why Him? Why Her?
"This adventure- and wisdom-packed book is a boon to seniors who will no longer need to apologize for the space they take up on the planet. It will also help the young prepare for geezerhood."
            —Albert Rosenfeld, author of Prolongevity II
"Roy Rowan—a master reporter—has brilliantly covered the biggest story of his career, which is life—not just his own, which has been packed with adventure and achievement, but the art and craft of living. Never Too Late is fun and funny, wise and inspirational, and useful to readers of all ages."    —Strobe Talbott, President, The Brookings Institution
"The marvelous course of Never Too Late winds back and forth between primer and memoir. The primer part offers lessons for living a fruitful, exciting life in the post-retirement years. . . . The book's main inspiration . . . is the full, adventurous, rollicking life story of the author himself, whose ardor for journalism keeps him extraordinarily productive at age 91. . . . The main lesson of Never Too Late is that you can keep excelling at something you love for a long, long time. Roy Rowan was lucky indeed to find what he was put on this earth to do from early on. His message is that you can find it at any age. The spires of Venice and domes of Istanbul await you. So think with your heart, pick a romantic destination, and get on that train." —Fortune.com
Advertisement