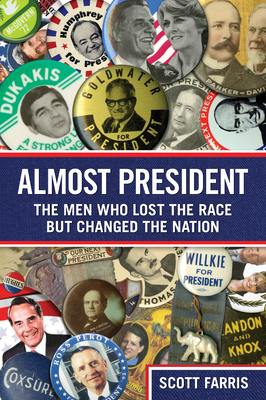 Almost President: The Men Who Lost the Race But Changed the Nation (Hardcover)
The Men Who Lost the Race But Changed the Nation
Lyons Press, 9780762763788, 339pp.
Publication Date: December 6, 2011
* Individual store prices may vary.
or
Not Currently Available for Direct Purchase
Description
As the 2012 presidential campaign begins, Almost President profiles a dozen men who have run for the American presidency and lost but who, even in defeat, have had a greater impact on American history than many of those who have served as president. Scott Farris tells us the stories of legendary figures from Henry Clay to Stephen Douglas, William Jennings Bryan to Thomas Dewey. He also includes mini-profiles on every major candidate nominated for president who never reached the White House but who helped ensure the success of American democracy. Farris explains how Barry Goldwater achieved the party realignment that had eluded FDR, how George McGovern paved the way for Barack Obama, and how Ross Perot changed the way all presidential candidates campaign. There is Al Smith, the first Catholic nominee for president; and Adlai Stevenson, the candidate of the "eggheads" who remains the beau ideal of a liberal statesman. Others covered by this book include Al Gore, John Kerry, and John McCain. The mini profiles also include evocative portraits of such men as John C. Fremont, the first Republican Party presidential candidate; and General Winfield Scott, whose loss helped guarantee the Union victory in the Civil War.
About the Author
Scott Farris is an experienced political journalist, speechwriter, adviser, and political candidate. A former bureau chief for United Press International and a political columnist, Farris has interviewed most of the men and women who have sought the presidency over the past thirty years. He managed several political campaigns, and was the Democratic Party's 1998 congressional nominee for Wyoming's at-large district, the seat once held by former Vice President Dick Cheney. Farris worked as a senior policy and communications adviser to a U.S. senator, the governors of Wyoming and California, the mayor of Portland, Oregon, two university presidents, and the bishop of the Roman Catholic Diocese of Cheyenne. He worked closely with three presidential administrations and as a volunteer on multiple presidential campaigns. The first American journalist selected to participate in the Georgetown University School of Foreign Service's prestigious International Leadership Seminar, Farris has a master's degree in history from the University of Wyoming, where his thesis focused on President Kennedy's battle with the radical right. He is currently the Director of Government Relations in the western United States for TransCanada, a Canadian-based energy infrastructure company. He lives in Portland, Oregon, with his wife and two children.
Praise For Almost President: The Men Who Lost the Race But Changed the Nation…
"[An] engaging study of men who came up short in the presidential arena but still had a significant effect on the life of the nation…."  
          —Wall Street Journal
"Scott Farris shines a welcome spotlight on the neglected subject of presidential also-rans. In this impressive new book, Farris shows that the losers and their ideas have sometimes transformed their political parties, and moved the nation ahead. Meticulously researched, Almost President is rich in detail and anecdotes, and a pleasure to read."
—Joseph Wheelan, author of Mr. Adams's Last Crusade: John Quincy Adams's Extraordinary Post-Presidential Life in Congress and Libby Prison Breakout
"Scott Farris has penned a series of fascinating portraits of candidates who triggered sea changes in our political process. Informative to readers at all levels."
—David Pietrusza, author of 1948: Harry Truman's Improbable Victory and the Year that Transformed America
"To those demoralized by today's fiercely partisan political arena, take heart! Scott Farris's superb history of losing Presidential candidates reassures us all that even out of bitter campaigns and defeats, losers do come back and contribute profoundly to major realignments, decency, and equality in American politics." 
—The Honorable David Abshire, former Ambassador to NATO, and current President, Center for the Study of the Presidency and Congress
"Farris writes with a lively flair, skillfully illustrating his solid historical research with revelatory anecdotes and facts." –Publishers Weekly
"A lively, opinionated examination of the instructive role of the loser in presidential races…. [R]iveting, sympathetic treatments…. A most useful aide-mémoire for situating the upcoming presidential slugfest." —Kirkus Reviews
Advertisement