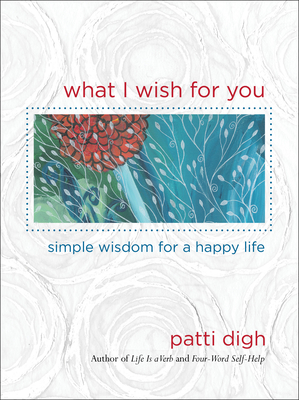 What I Wish for You (Hardcover)
Simple Wisdom for a Happy Life
Skirt!, 9780762770625, 143pp.
Publication Date: April 1, 2011
* Individual store prices may vary.
Description
In the tradition of Dr. Seuss's "Oh, The Places You'll Go " and Anna Quindlen's "A Short Guide to a Happy Life" comes this gathering of wisdom ideal for any person, young or old(er), facing a transition. What advice do you wish you had heard--"really" heard--when you were graduating from high school or college? What words could you benefit from hearing again? When Patti Digh asked her readers this question as her own daughter was starting college, the resulting flood of pithy, heartfelt wisdom sparked the idea for this book. What flowed in was beautiful, thoughtful, poignant, and funny. Out of the hundreds of essays, six themes emerged: * Remember who you are* Know what matters most* Make peace with time* Let go of certainty* Learn every single day* Open up your hand "What I Wish for You" features meaningful stories from Patti as well as illustrations and essays submitted by readers of her blog from around the world, resulting in a vibrant, intriguing, and life-affirming book ideal for the young graduate and beyond.
About the Author
Patti Digh, the creator and author of the award-winning blog 37days.com, is the author of three previous Skirt! books: the best-selling Life Is a Verb, a Books for a Better Life finalist; Creative Is a Verb; and Four-Word Self-Help. She is an internationally recognized speaker whose comments have been featured in the Wall Street Journal, the London Financial Times, and the New York Times. Her Web site is pattidigh.com, and she lives in Asheville, North Carolina. As with her previous books, the author will actively promote and market the work in her speaking engagements, on her blog and website, and through social media sites such as Facebook and Twitter. Her 40+ city tour for Life is a Verb was one example of the power of social media in creating a grassroots best seller, as was her 30-day blog tour when Life is a Verb was published. Because the contributors (both writers and artists) will have a vested interest in the book, they will also provide a good avenue for increasing sales.