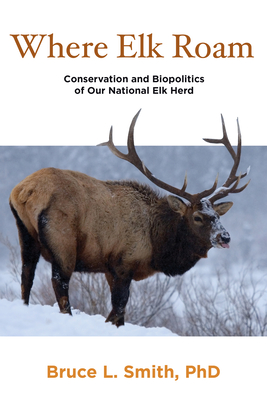 Where Elk Roam
Conservation And Biopolitics Of Our National Elk Herd, First Edition
Paperback

* Individual store prices may vary.
Description
An inside look at working with the majestic elk-and the controversies surrounding their conservation.
Praise For Where Elk Roam: Conservation And Biopolitics Of Our National Elk Herd, First Edition…
Bruce Smith, who spent 22 years as the US Fish and Wildlife Service' biologist at the National Elk Refuge, tells its story with the bark off. His job required consummate skills as a biologist, scientist, social scientist, synthesizer, and politician. Now in retirement he tells it like it is and was. He uses a fascinating style of dealing with all those factors through a first person accounting and interpretation of events as they took place. And, he ponders the future of supplemental feeding of wintering elk as a management technique as nobody else could – or even dares. 
Jack Ward Thomas, PhD
Chief Emeritus, U. S. Forest Service
Professor Emeritus, University of Montana 

"Bruce Smith is the foremost expert on elk in our region and one of the most vocal proponents of healthy, free-roaming populations of this majestic animal. Where Elk Roam: Conservation and Biopolitics of our National Elk Herd is a must-read for anyone who wants to understand in plain English the complexities and challenges of trying to do the right thing for our nation's signature herd at the National Elk Refuge." — Mike Clark, executive director, Greater Yellowstone Coalition.
"What one gets in Where Elk Roam is one of those rare gems of insight on wildlife biology most of us struggle a career for, but Smith has bound it all up nicely between two covers in a very readable and forthright way."
--Author and naturalist Douglas Smith
Lyons Press, 9780762770748, 272pp.
Publication Date: November 8, 2011
About the Author
Bruce Smith, PhD, retired from the US Fish and Wildlife Service in 2004 after a thirty-year career as a wildlife manager and scientist. During that time, he worked with every big game species in the western United States. Many of his publications address aspects of elk ecology and conservation.