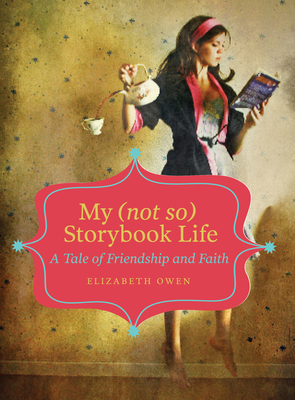 My (Not So) Storybook Life (Hardcover)
A Tale of Friendship and Faith
Skirt!, 9780762773572, 243pp.
Publication Date: October 18, 2011
* Individual store prices may vary.
Description
Fresh, funny, and poignant, My (not so) Storybook Life is old-fashioned humor mashed with literary spoofery. Elizabeth thinks of herself and her husband, Matt, as a modern-day Lucy and Ricky Ricardo. Together they've endured paint-color mishaps, sewage disasters, pest infestations, and a schnauzer that poops at tornado sirens. It's hardly the domestic perfection a young Liz imagined while reading Anne of Green Gables and Pride and Prejudice. Could it be that these literary stalwarts had led her astray? Liz tells the story of her own path to happiness, along the way seeking revenge on her literary heroes: Jo March has to cope with a soul-sucking job, Elizabeth Bennett shepherds a Duggar-size brood of kids, and Anne Shirley deals with a penny-pinching husband. But every comedy is balanced by tragedy. Angela was one of Liz's closest friends, a kindred spirit who, at age thirty-one, was diagnosed with cancer. Before Angela, Liz was discontented. But it was the journey she took with this friend that made her realize that her house and its decorations and plumbing and dirty-clothes-covered Man Cave were not burdens to be tweaked and perfected, but blessings to be thankful for.
About the Author
Elizabeth Owen is an office drone and freelance writer. Her blog, Mabel's House (http: //mabelshouse.blogspot.com/) averages more than 20,000 visits per month and has been featured on numerous occasions on Apartment Therapy and Design Sponge. Her articles and projects have appeared in Better Homes and Gardens and At Home in Arkansas.
Praise For My (Not So) Storybook Life: A Tale of Friendship and Faith…
"Heart-touchingly sweet and tender as any powerful story of friendship and faith should be."
—Ronda Rich, author of What Southern Women Know About Faith and What Southern Women Know (That Every Woman Should)
 "You owe it to yourself to sit for a spell with Elizabeth Owen's frank, funny, and thoroughly unforgettable memoir."
—Deborah Ford, author of The GRITS Guide to Life and Bless His Heart
 "This book totally makes me want to hang out with Elizabeth Owen and eat her terrible cookies."
—Elizabeth Beckwith, author of Raising the Perfect Child through Guilt and Manipulation
"Owen takes us on a hilarious, heartwrenching and decidedly modernized literary journey through the joys and woes of homeownership, marriage and friendship. You'll love as she cleverly juxtaposes your favorite literary giants from days of yore with modern-life experiences. Owen is everywoman through the ages. Anne (of Green Gables) would be proud."
—Jenny Gardiner, author of Sleeping with Ward Cleaver and Slim to None
or
Not Currently Available for Direct Purchase