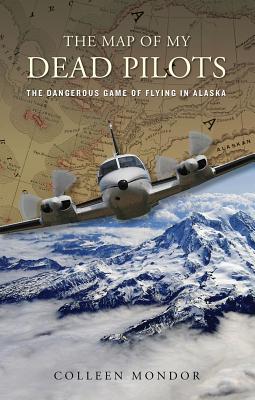 The Map of My Dead Pilots (Hardcover)
The Dangerous Game of Flying in Alaska
Lyons Press, 9780762773619, 256pp.
Publication Date: November 1, 2011
Other Editions of This Title:
Paperback (4/2/2013)
* Individual store prices may vary.
Description
Northern Exposure meets Air America in this exposé of the daily life and death insanity of commercial flying in Alaska.
About the Author
Colleen Mondor is a longtime columnist and reviewer for "Bookslut" and book reviewer for "Booklist" whose essays have appeared in several journals and aviation magazines. She currently owns an aviation business. Her blog can be found at chasingray.com.
Praise For The Map of My Dead Pilots: The Dangerous Game of Flying in Alaska…
"I know that the first two letters of 'memoir' spell 'me,' but the kind of memoir I like best is one that goes beyond being simply a personal account and instead tells a larger story. The Map of My Dead Pilots by Colleen Mondor does exactly that. . . . This isn't a neatly narrated, chronological account with a clean beginning and a clear end. Rather, in lyrical, impressionistic prose she relates the stories she tells of the pilots she knew—some still living and some now dead—to the myth and the reality of Alaska.
It's a story of danger, of loss, of courage, of unsavory landing strips and forbidding mountains, of delivering mail and making mercy flights, of adrenaline and prayer, of unpredictably changeable winds and oncoming storms, of snow, of difficult decisions, of good fortune and bad luck, and, always, of the unbelievable cold. But it's also about why we choose the lives we do, how we rewrite our pasts to make sense of ourselves to the person we've become, what we choose to remember, and how and why we forget what we do: It's about myth-making, storytelling and memory. . . ." --Nancy Pearl, NPR's Morning Edition "Strap yourselves in. Map of My Dead Pilots is one hell of a ride, one of the best Alaska books ever. In gorgeous, literary prose that nails the rhythms of a barroom conversation and plumbs the depth of the human soul, Colleen Mondor writes a one-way ticket into the world of Alaska aviation. If Shakespeare and Hemingway teamed up to write an Alaska reality show, it might go something like this." —Nick Jans, twenty-year resident of arctic bush Alaska and author of The Last Light Breaking and The Grizzly Maze "The Map of My Dead Pilots is that other kind of memoir—galvanizing, exhilarating, fresh.  The ridiculously daring pilots of the Alaskan frontier are here, of course—meticulously rendered, artfully arranged.  But undergirding it all is Mondor's own tremendous passion for a particular place and time, her enormous skills as a storyteller, and her brave (let's call it sublime) commitment to writing down what cannot be forgotten. Don't miss this book.  Please don't."—Beth Kephart, National Book Award finalist and author, most recently, of You Are My Only "If it's said that dead men tell no tales, then, thank goodness, Mondor is around to do so. . . . Mondor, who walks the tightrope between admiration and detachment with a deft and agile balance, presents an equitable yet passionate memoir that virtually flies off the page." —Booklist starred review "In The Map of My Dead Pilots, Mondor does a great job of giving readers a well-documented, frank, and clear idea of the harrowing nature of flying in Alaska. It's not "Northern Exposure meets Air America" as the flap copy reads—it's actually something much more interesting. Highly recommended." —Omnivoracious.com
or
Not Currently Available for Direct Purchase