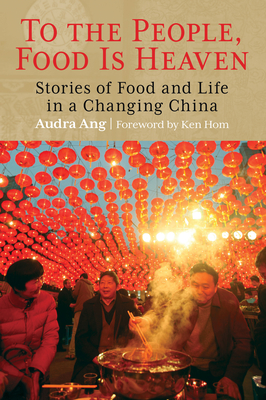 To the People, Food Is Heaven
Stories of Food and Life in a Changing China
Hardcover

* Individual store prices may vary.
Description
In China, the world's next superpower, life is comfortable for the fortunate few. For others, it's a hand-to-mouth struggle for a full stomach, a place to live, wages for work done, and freedom to speak openly. In a place where few things are more impo.
Praise For To the People, Food Is Heaven: Stories of Food and Life in a Changing China…
"A rare glimpse into the day-to-day experiences of those who inhabit a paradoxically intransigent and transforming modern China. Audra Ang serves up a sweet, sour, savory, and bitter tale that culinarily paints the complexity and poignancy of life for today's Chinese."
—Grace Young, James Beard Award–winning author of Stir-Frying to the Sky's Edge

"To the People, Food Is Heaven is like a fresh and generous Chinese meal, varied, colorful, and delicious. Audra Ang takes you with her on a thoughtful journey through China, reflecting on everything from the politics of protest and mysterious lake monsters to the lives of farmers, scholars, activists, cops, and reporters. Ang's own story, woven among those of the people she met, is a moving tale of how we find ourselves and each other, often in the most unexpected places."
—Rachel DeWoskin, author of Foreign Babes in Beijing

"Audra Ang has a wonderful eye for detail and a passion for good food and good company. After reading her beautiful memoir, you'll feel as though you've met every character personally and shared a meal with each of them."
—Philip P. Pan, author of Out of Mao's Shadow

"Audra Ang has written a fast-paced memoir of her eventful years in China, a period of turmoil and change that shaped today's country. Ang—a Singaporean of Chinese descent—uses her very Chinese love of food as a way to penetrate Chinese society and bring us closer to ordinary people. Throughout it all, she writes clearly, with great sympathy and an open mind."
—Ian Johnson, author of Wild Grass

"Writing in clear bold prose, Ang offers us a feast of intimate and heartfelt vignettes viewed through the lens of food—part reportage, part history, part travelogue—proving that, for the Chinese people, what they eat and if they eat has always been their primary preoccupation and greatest pleasure." —Leslie Li, author of Daughter of Heaven

"A mouth-watering taste of modern China. A hard-boiled journalist and bon viveur, Ang eats her way across the Middle Kingdom and provides us with a sumptuous feast of food anecdotes and journalistic insights."
—Jonathan Watts, author of When a Billion Chinese Jump

Lyons Press, 9780762773923, 296pp.
Publication Date: October 16, 2012
About the Author
Audra Ang is a Beijing correspondent for the Associated Press. Her work has appeared in numerous publications. A fellow of the Salzburg Global Seminar, a fellow of the Peter Jennings Project for Journalists and the Constitution, and a Nieman fellow at Harvard University, she regularly eats unseemly amounts of food at one sitting. Ken Hom is one of the world's authorities on Chinese and Asian cooking and the author of 34 books to date. Oxford Brookes University named him founding patron of Oxford Gastronomica, the Centre for Food, Drink, and Culture, and in 2009 he received an honorary OBE from Queen Elizabeth II for his services to the culinary arts. He divides his time between France and Thailand.
or
Not Currently Available for Direct Purchase