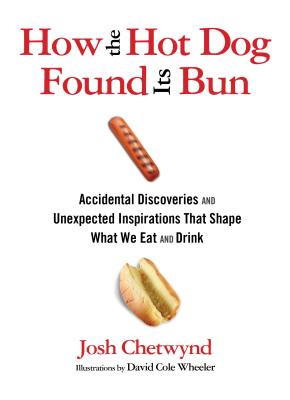 How the Hot Dog Found Its Bun: Accidental Discoveries and Unexpected Inspirations That Shape What We Eat and Drink (Hardcover)
Accidental Discoveries and Unexpected Inspirations That Shape What We Eat and Drink
Lyons Press, 9780762777501, 163pp.
Publication Date: May 1, 2012
Description
Sometimes it's neither art nor science that serves as the origins of the everyday kitchen and food items that we take for granted today. Sometimes, as Josh Chetwynd shows us in How the Hot Dog Found Its Bun, some of our greatest culinary achievements were simply by-products of "damned good luck." In How the Hot Dog Found Its Bun, Josh explores the origins of kitchen inventions, products, and foodstuff in seventy-five short essays that dispel popular myths and draw lines between food facts and food fiction. Josh's charming text combined with simple line illustrations makes this an excellent gift and go-to source book for all food and trivia buffs.
About the Author
Josh Chetwynd is an award-winning journalist who has worked as a staff reporter for such publications as USA Today and U.S. News & World Report. He is a versatile writer who has contributed to numerous other outlets, including The Wall Street Journal, The Times (of London), Variety, and BBC Radio on topics as varied as sports, film, politics, legal issues and travel. He has written three books. His most recent effort, titled The Secret History of Balls: The Stories Behind The Things We Love To Catch, Whack, Throw, Kick, Bounce and Bat was published by Perigee Books in May 2011. His previous work, Baseball in Europe: A Country by Country History, received critical acclaim from such publications as the Chicago Tribune ("fascinating"); The Guardian (UK) ("unrivaled in its description of baseball's presence [in Europe]...definitive"); MLB.com ("comprehensive"); and Choice Magazine ("excellent Highly recommended"). In addition, he co-authored the book British Baseball and the West Ham Club: History of a 1930s Professional Team in East London."
Praise For How the Hot Dog Found Its Bun: Accidental Discoveries and Unexpected Inspirations That Shape What We Eat and Drink…
"This book is like a culinary version of One Thousand and One Nights. Each entry combines the sturdiness and dependability of history with the readability and charm of a folk tale. I wish I'd had this volume at hand back when I was doing my live show on The Food Network. Hardly a day went by when I wasn't asked about the origins of one dish or another." ~Sara Moulton, host of PBS's Sara's Weeknight Meals "I remember eating Caesar salad in Tijuana as a kid. I was always confused about the connection between the two, and it wasn't until I read How the Hot Dog Found its Bun that it all came together. The drama! The fraternal infighting! The appearance of Julia Child! If it weren't for this book, I'd have never known the back story. Thanks, Josh Chetwynd."~Meredith Arthur, CHOW.com 
Advertisement