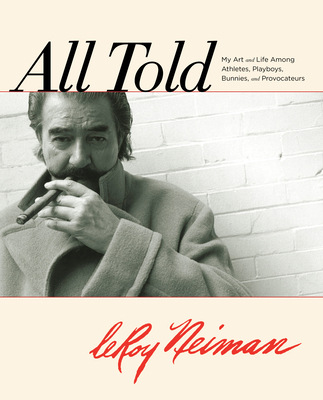 All Told: My Art and Life Among Athletes, Playboys, Bunnies, and Provocateurs (Hardcover)
My Art and Life Among Athletes, Playboys, Bunnies, and Provocateurs
Lyons Press, 9780762778379, 352pp.
Publication Date: June 5, 2012
* Individual store prices may vary.
or
Not Currently Available for Direct Purchase
Description
The memoir of one of the most recognizable contemporary artists in the world, a book filled with the biggest celebrities in twentieth-century sport, art, sexy dames, music, film, and more, by LeRoy Neiman, who was a principle contributor to Playboy for ye.
About the Author
LeRoy Neiman married fine art to popular art with his brilliantly colored, energetic depictions of sports, celebrities, America at play, life on safari, and locations from the White House lawn to a nudist colony on the Adriatic. Born in St. Paul, Minnesota, he left high school in 1942 to join the U.S. Army, returning four years later to obtain his high school degree. He then studied at the School of the Art Institute of Chicago (where he taught for ten years), the University of Chicago, and the University of Illinois. Early in the 1950s he did fashion illustration for the department store of Carson, Pirie, Scott & Co., where he met Playboy founder Hugh Hefner in 1953. He lives in New York City, overlooking Central Park. His prints are eagerly collected, fetching impressive sums. He has published more than a dozen books of his collected work, has won numerous awards, and is included in the fine art collections of the nation's top museums.
Praise For All Told: My Art and Life Among Athletes, Playboys, Bunnies, and Provocateurs…
"What intrigued me about LeRoy from the very beginning was that his work was rooted in fine art.  He was teaching at the Art Institute when nobody else was blurring the lines between fine art and commercial art like he was. He's always had that distinctive LeRoy style, one that I knew from day one would define the unique nature of Playboy. Trust has been the key to our relationship, and he's the only artist I've worked with for more than fifty years. He's a tremendous talent and a tremendous human being."  
          —Hugh Hefner
"It was not unusual for me to look up from a workout or a sparring session to see LeRoy perched on a chair, off to the side, studying my movements while sketching in quick strokes. With his bold colors and distinctive artistic style, LeRoy's art and sketches captured my attention and imagination. He made me look as colorful and pretty on paper as I was in person—now that's talent!"
          —Muhammad Ali
"LeRoy Neiman's love of jazz is real.  His series of stunning poster art, depicting Duke Ellington, Charlie Parker, Gerry Mulligan, Miles Davis, Louis Armstrong, and Billie Holiday contributed immensely to the success that is The Newport Jazz Festival. LeRoy donated this work to us in the years between 1964 and 2004.  He would accept no compensation, which we couldn't have afforded any way. His work and his story, All Told, are priceless."
          —George Wein, jazz impresario, founder of The Newport Jazz Festival
Advertisement