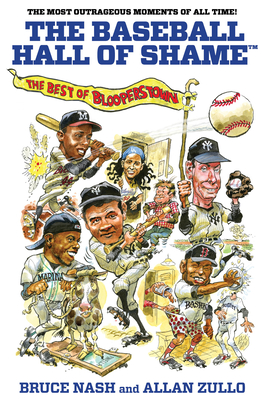 Baseball Hall of Shame(tm)
The Best of Blooperstown
Paperback

* Individual store prices may vary.
Description
From 1985 to 1992, The Baseball Hall of Shame series chronicled more than 100 years of baseball goofs and gaffes, selling more than 700,000 copies. Now, the authors of the most offbeat baseball books ever written are back, featuring their looniest lineup of classic stories and inducting their first new class of Hall of Shamers in twenty years. Bruce Nash and Allan Zullo cover everything from the battiest batters and craziest fielding fiascoes to the dumbest ballpark promotions and screwiest fan behavior. Hall of Shamers include outfielder Lou The Mad Russian Novikoff, who insisted his wife taunt him from the stands because it made him a better hitter... Pitcher Burleigh Grimes, who was so mean that he threw a beanball at the on-deck hitter... Outfielder Ping Bodie, who out-ate Percy the ostrich for the spaghetti-eating championship of the world... and Babe Ruth, who wore ladies' silk stockings for good luck. Among the new inductees are Ken Griffey Jr., who put a cow in manager Lou Piniella's office to pay off a steak dinner bet... Manny Ramirez, who abandoned left field to go to the bathroom during a game... and David Big Papi Ortiz, whose underwear was smeared with peanut butter as payback for the pranks he pulled on teammates. Filled with more than 200 stories and packed with photos, The Baseball Hall of Shame: The Best of Blooperstown is the most hilarious homage to the national pastime ever assembled, and a fitting testament to the Hall's motto: Fame and shame are part of the game.
Praise For Baseball Hall of Shame(tm): The Best of Blooperstown…
Praise for The Baseball Hall of Shame books "Unf---ingbelievable!" —Village Voice "[A] classic in American sports humor . . . " —Milwaukee Sentinel 
"An entire book devoted to baseball stories, pranks, bloopers and miscues. Truly a baseball fan's dream…. The Baseball Hall of Shame is a book that will last a lifetime and always be relevant in your baseball fandom. Sure, we love to celebrate the great achievements in baseball. But there is a time and place to remember the other side of the game. The Baseball Hall of Shame: fun. Funnier. Maybe the funniest baseball book you will ever read." —MLB reports
Lyons Press, 9780762778454, 296pp.
Publication Date: March 6, 2012
About the Author
Bruce Nash, president of Nash Entertainment, is the creator and producer of more than 80 television series and specials, including Before They Were Stars, Magic's Biggest Secrets Finally Revealed, Meet My Folks, and Who Wants To Be A Superhero? His Modern Marvels series is one of cable's longest running programs, with more than 500 one-hour episodes. On the sports front, Nash created and produced the critically acclaimed series Amazing Sports Stories, which was nominated for four Sports Emmys. Allan Zullo has written more than 100 nonfiction books on such subjects as sports, the supernatural, history, animals, war, survival, heroism, and grandparenting. His latest book is Heroes of 9/11. Among his many sports books are When Bad Things Happen to Good Golfers, Golf is a Funny Game and March to Madness. He writes two best-selling series for Scholastic, Haunted Kids and Ten True Tales.
or
Not Currently Available for Direct Purchase