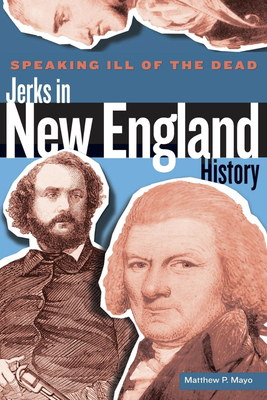 Speaking Ill of the Dead
Jerks in New England History, First Edition (Speaking Ill of the Dead: Jerks in Histo)
Paperback

* Individual store prices may vary.
Description
The lives of notorious bad guys, perpetrators of mischief, visionary-if misunderstood-thinkers, and other colorful antiheroes, jerks, and evil doers from history all get their due in the short essays featured in these enlightening, informative, books. Speaking Ill of the Dead: Jerks in New England History features twenty short biographies of nefarious characters, from Charles W. Morse, serial monopolist, cheat, liar, and swindler, to Emeline Meaker & Mary Rogers, otherwise known as the Lady Killers.
Globe Pequot Press, 9780762778621, 232pp.
Publication Date: November 5, 2013
About the Author
Matthew P. Mayo's short stories have appeared in a variety of publications, including Six-Guns and Slay Bells, Beat to a Pulp, Out of the Gutter, Moonstone Books anthologies, and the DAW Books anthologies Timeshares and Steampunk'd. His stories have been nominated for Western Writers of America's Spur Award and Western Fictioneers' Peacemaker Award. Matthew's novels include the Westerns Winters' War; Wrong Town; Hot Lead, Cold Heart; Dead Man's Ranch; Tucker's Reckoning; and The Hunted.His critically acclaimed non-fiction includes the books Cowboys, Mountain Men & Grizzly Bears: Fifty of the Grittiest Moments in the History of the Wild West; Bootleggers, Lobstermen & Lumberjacks: Fifty of the Grittiest Moments in the History of Hardscrabble New England; Sourdoughs, Claim Jumpers & Dry Gulchers: Fifty of the Grittiest Moments in the History of Frontier Prospecting, and Haunted Old West, all published by Globe Pequot Press.He has also written for Globe Pequot Press, in collaboration with his wife, photographer Jennifer Smith-Mayo, the coffee-table books Maine Icons, New Hampshire Icons, and Vermont Icons. Matthew roves the highways and byways of New England and out West with his wife and their wee dog, Nessie. Visit him on the Web at www.matthewmayo.com.