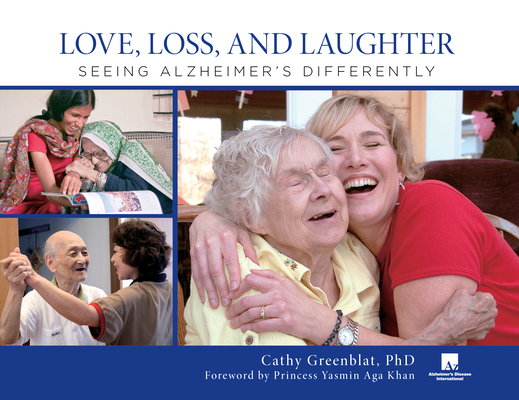 Love, Loss, and Laughter
Seeing Alzheimer's Differently
Hardcover

* Individual store prices may vary.
Description
See the BBC's slideshow of photos from Love, Loss, and Laughter.
Praise For Love, Loss, and Laughter: Seeing Alzheimer's Differently…
"Through powerful images and empowering messages, Love, Loss, and Laughter: Seeing Alzheimer's Differently offers a glimpse of the disease through an important new lens. This groundbreaking book provides honor, respect and dignity to people living with dementia and delivers comfort, support and understanding to their caregivers. Equal parts inspiring and informative, this book will go a long way in enhancing the quality of care, and the quality of life, of everyone touched by this disease."
—Maria Shriver, j
ournalist, activist, and best-selling author of six books, including What's Happening to Grandpa?
"This remarkable collection of photographs and commentaries creates an eye-opening perspective on persons with Alzheimer's Disease—still human, still loved, and still capable of joy. It will inspire anyone—professional or lay person—who has been touched by Alzheimer's."
—Dr. Harvey Fineberg, President of the Institute of Medicine, National Academy of Sciences
 "The secret of this book is the secret of what really moves people to action. First, faces that express the full range of our humanity, vivid images that span the planet and test our emotional range. And second, stories of care that provide the backdrop for solid information on how to approach persons with dementia and their carers with respect and dignity."
 — Michael Splaine, Former Director of Policy and Advocacy Programs in the Public Policy Division of the Alzheimer's Association 
"As someone with a diagnosis of Alzheimer's disease, I can identify with the joy that people still feel in living and being involved, despite their cognitive decline due to the condition. This exceptional collection of photographs captures this beautifully. You can almost touch the joy, love, and laughter that emanates from the people involved; it is so tangible, you are lovingly invited into each picture to share the moment".
—Lynda A. Hogg, Board member of ADI and author of the report "Dementia: Impact on Relationships"
"Seeing is believing. These vibrant in-the-moment images and brilliantly brief program and practice pearls will change teaching and conversations about "caring" among aging services and healthcare professionals. Love, Loss. and Laughter will alter expectations, relationships, perspectives, talking and behavior. Everyone affected by dementia stands to gain. Buy this book."
  —Lisa P. Gwyther, Co-author, The Alzheimer's Action Plan: A Family Guide, and Director of Duke Center for Aging Family Support Program
"People with illnesses are more than their disease. This fact needs to be borne in mind especially with Alzheimer's, a (so far) irreversible brain disease whose most obvious effects are the steady deterioration of cognition and accompanying changes in the patient's interpersonal world . This inspiring book with its extraordinary photographs and text goes a long way towards reminding us of the basic humanity of those afflicted and of how we can meet the challenges Alzheimer's poses."
  — Gerald C. Davison, Ph.D., Dean of Davis School of Gerontology, University of Southern California
Lyons Press, 9780762779079, 176pp.
Publication Date: March 6, 2012
About the Author
The author/photographer brings expertise as a sociologist to the project. Cathy Greenblat, Ph.D., (BA, Vassar College, MA, PhD Columbia University) has engaged in a cross-cultural photographic project on aging, dementia, and end of life care since 2001. She is Professor Emerita of Sociology at Rutgers University (New Brunswick, NJ) where she served as a member of the Department of Sociology, Women's Studies, and the Bloustein School of Planning, teaching both undergraduate and graduate courses. During her academic career she authored more than 100 professional articles and 14 books including textbooks, trade books and specialized sociology books. A photography book, Alive with Alzheimer's (University of Chicago Press, 2004), and the German translation (Alzheimer und Lebensqualitat) were published after her retirement. In addition to the author's professional expertise, she has been affected by Alzheimer's in a personal way. Both maternal grandparents succumbed to Alzheimer's. Her grandfather, a successful attorney and politician, spent his final years disconnected from life. When home care became two difficult, both were reluctantly placed in 'premier' facilities where care meant keeping the patient fed, hydrated, and safe. When her mother was diagnosed years later, the author was able to provide a much richer life and context.
or
Not Currently Available for Direct Purchase