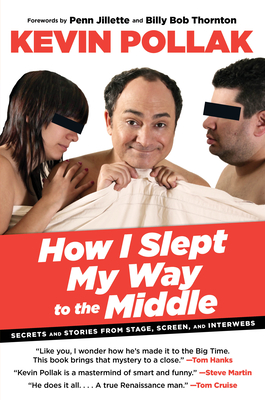 How I Slept My Way to the Middle (Hardcover)
Secrets and Stories from Stage, Screen, and Interwebs
Lyons Press, 9780762780556, 250pp.
Publication Date: November 6, 2012
Other Editions of This Title:
Paperback (11/5/2013)
MP3 CD (4/15/2014)
Compact Disc (11/1/2012)
Compact Disc (11/5/2013)
MP3 CD (11/6/2012)
Compact Disc (11/6/2012)
MP3 CD (11/6/2012)
* Individual store prices may vary.
Description
One of Comedy Central's Top 100 Stand-Up Comedians of All Time, award-winning dramatic actor, and an internet pioneer, Kevin Pollak has done it all for thirty years and is ready to spill the beans. Best known for performances in A Few Good Men and The Usual Suspects, he shares never-before-heard stories of film legends like De Niro, Hanks, Howard, Lemon, Loren, Lucas, Martin, Mathau, Reiner, Scorcese, Singer, Willis, and more. He turned down his first invitation to do stand-up on The Tonight Show because he knew that he'd have a bigger impact if he sat next to Johnny instead of performing onstage. When he gambled for a spot on the most coveted couch in showbiz, he had no agent, no auditions, no prospects. But his gut was right: A year later, his first sit with the king of late night led to three visits a year, every year, until Carson retired. Now a new media entrepreneur, Pollak is laughing proof that you can do anything you want--except have a rational conversation with Rip Torn, who's an evil, paranoid $# %.
About the Author
Kevin Pollak has appeared in over 65 films, including A Few Good Men, The Usual Suspects, Casino and the Grumpy Old Men franchise, in addition to numerous TV shows. Named one of Comedy Central's Top 100 Comedians of All Time. He lives a short bike ride from Venice Beach in Southern California.
Praise For How I Slept My Way to the Middle: Secrets and Stories from Stage, Screen, and Interwebs…
"It's great stuff. ... We love it. ... Pollak has packed his book with not only amazing stories from his life (and there are many) but with enough celebrity anecdotes that this could almost be shelved with the quotation books. This is a very funny, real insider look at the 'business.'"
—AmericasComedy.com

"The book is full of funny or surprising stories (sometimes they're both) and plenty of self-deprecating humor. Pollak is a working actor, not a star, and his book is all the more likable for it. A genuinely entertaining movie memoir."
—Booklist

"Amusing ... Pollak is an engaging raconteur on the page. ... The most compelling passages concern the author's pre-fame days, including a legitimately riveting account of the teenage author, already in possession of a killer Peter Falk impersonation, hijacking a concert performance by Rich Little."
—Kirkus Reviews

"If he writes as well as he imitates me, you're in for a good time."
—ALBERT BROOKS

"Kevin Pollak is a mastermind of smart and funny. He attacks my funny bone the way a pit bull attacks my anklebone."
—STEVE MARTIN

"Kevin Pollak is one of those guys who shows up in every corner of the Business of Show—hit TV programs, award winning movies, radio shows of every kind, and benefit dinners for worthy charities. I once saw him in the parking lot at Cirque du Soleil and hollered, 'Hey! Kevin!' but he didn't hear me. Like you, I wonder how he's made it to the Big Time. This book brings that mystery to a close."
—TOM HANKS

"Kevin Pollak does it all: He does impressions, he acts, he writes, he produces. He continues to impress with his unique and unabashed ability to use his friends' names for his sole benefit. A true Renaissance man."
—TOM CRUISE

"Unfortunately, as a personal favor, I allowed Leo Tolstoy a blurb calling War and Peace 'my most fun read ever.' That being the case, I am unable to say the same about How I Slept My Way to the Middle. Would that I had reserved that comment for Kevin Pollak, where the appraisal would be so much more deserved."
—JAMES L. BROOKS

"Unfortunately, I did a little digging, and Kevin Pollak's book was ghostwritten by a factory full of Chinese children hopped up on n-hexane. In spite of, or perhaps because of, that, I hear it's a great read."
—HARRY SHEARER

"Actor, writer, storyteller, stand up, chat-show host, man about town, the most wonderful company, and now memoirist. Is there no end to his deranged ambition? Clearly not. I did two pictures with him and count myself lucky I got off with just two. A book I just couldn't wait to put down."
—GABRIEL BYRNE
or
Not Currently Available for Direct Purchase