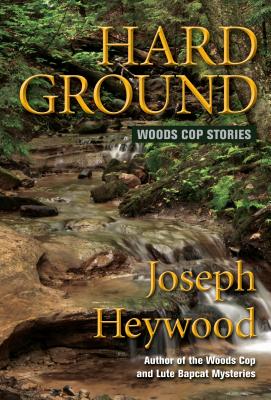 Hard Ground: Woods Cop Stories (Paperback)
Woods Cop Stories
Lyons Press, 9780762781263, 218pp.
Publication Date: May 7, 2013
Description
Hard Ground is a treasure chest of stories for lovers of the outdoors, fans of smart crime fiction, and, of course, the legions of Joseph Heywood fans. Featuring the game-warden colleagues of Woods Cop star Grady Service, the tales in this collection follow the men and women patrolling Michigan's wilds as they encounter everything from poachers determined to defend their kills with deadly resistance to drug pushers selling their wares at an Elvis Convention camping retreat. There are search-and-rescue operations, a rookie game warden's first day on the job, and much, much more. With Heywood's trademark ability to capture the eccentric characters of the Upper Peninsula, his wonderful ear for dialogue, and his vivid descriptions of hunting, fishing, and outdoorsmanship, these twenty-plus stories will delight Heywood fans and entice any reader who loves stories about the great outdoors or law-and-order. As an added bonus, one story features Woods Cop protagonist Grady Service early in his career, while another story stars Heywood's new series protagonist Lute Bapcat.
About the Author
Joseph Heywood is the author of The Snowfly (Lyons), Covered Waters (Lyons), The Berkut, Taxi Dancer, The Domino Conspiracy--and the eight novels comprising the Woods Cop Mystery Series. Featuring Grady Service, a detective in the Upper Peninsula for Michigan's Department of Natural Resources, this series has earned its author cult status among lovers of the outdoors, law enforcement officials, and mystery devotees. Heywood lives in Portage, Michigan. For more on Joseph Heywood and the Woods Cop Mysteries, visit the author's web site at www.josephheywood.com.
Praise For Hard Ground: Woods Cop Stories…
"Joseph Heywood has long been a red-blooded American original and an author worth reading. With Red Jacket--a colorful and sprawling new novel with a terrific new protagonist named Lute Bapcat--he raises the bar to soaring new heights." --C.J. Box, New York Times bestselling author of Force of Nature"In 1913, Theodore Roosevelt recruits former Rough Rider Lute Bapcat to become a game warden on Michigan's Upper Peninsula in Heywood's absorbing first in a new series. Outsized characters, both real (athlete George Gipp before his Notre Dame fame, union organizer Mother Jones) and fictional (randy businesswoman Jaquelle Frei; Lute's Russian companion, Pinkhus Sergeyevich Zakov), pepper the narrative." --Publishers WeeklyPraise for Joseph Heywood's Previous Novels"Joseph Heywood writes with a voice as unique and rugged as Michigan's Upper Peninsula itself." --Steve Hamilton, two-time Edgar® Award winner and bestselling author of The Lock Artist and the Alex McKnight novels"A truly wonderful, wild, funny and slightly crazy novel about fly fishing. The Snowfly ranks with the best this modern era has produced." --San Francisco Chronicle"A magical whirlwind of a novel, squarely in the tradition of Tim O'Brien's Going After Cacciato and Jim Harrison's Legends of the Fall." --Howard Frank Mosher, author of The Fall of the Year and others"Heywood has crafted an entertaining bunch of characters. An absorbing narrative twists and turns in a setting ripe for corruption." --Dallas Morning News
Advertisement