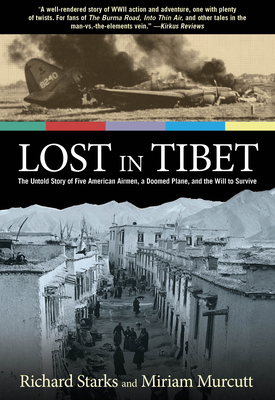 Lost in Tibet
The Untold Story of Five American Airmen, a Doomed Plane, and the Will to Survive
Paperback

* Individual store prices may vary.
Description
Caught in a violent storm and blown far off their intended course, five American airmen--flying the dangerous Himalayan supply route known as The Hump--were forced to bail out just seconds before their plane ran out of fuel. To their astonishment, they found they had landed in the heart of Tibet. There they had to confront what, to them, seemed a bizarre--even alien--people. At the same time, they had to extricate themselves from the political turmoil that even then was raging around Tibet's right to be independent from China.Now back in print, Lost in Tibet is an extraordinary story of high adventure that sheds light on the remarkable Tibetan people, just at the moment when they were coming to terms with a hostile outside world.
Praise For Lost in Tibet: The Untold Story of Five American Airmen, a Doomed Plane, and the Will to Survive…
"This book tells about an incident that has been hidden for too many years. It's a fascinating adventure that stands out from all the other wartime experiences I have heard about."--Charles Martin, former "Hump" pilot

"A well-rendered story of WWII action and adventure, one with plenty of twists and operational pointers for future warriors."--Kirkus Reviews

"Authors Starks and Murcutt absorbingly recount the political conquest of Tibet through the story of these five young men's unwitting embroilment in an international incident and their extraordinary journey home."--Publishers Weekly online

"This is a fine story of courage and diplomacy that presents invaluable information on a little-known theater of WWII and insight into the Tibet-China political situation."--Booklist

"This is a 'must-read' for mountaineers and history buffs alike. I was absorbed and moved." –Amanda Daflos, Director, Special Projects, International Mountain Explorers Connection "This is a gripping military adventure tale of a little-known episode of the Second World War."--WWII History Magazine  
Lyons Press, 9780762781348, 240pp.
Publication Date: September 4, 2012
About the Author
Richard Starks and Miriam Murcutt are worldwide travelers, writers, and editors who have authored several books, including A Room with a Pew and Along the River that Flows Uphill. Visit them at www.starksmurcutt.com.
or
Not Currently Available for Direct Purchase