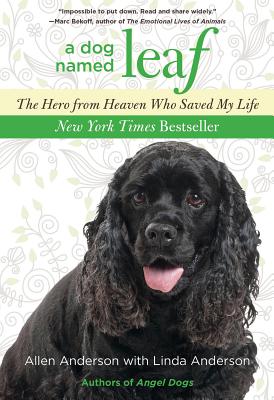 Dog Named Leaf (Paperback)
The Hero from Heaven Who Saved My Life
Lyons Press, 9780762781652, 214pp.
Publication Date: November 6, 2012
* Individual store prices may vary.
Description
A New York Times bestseller 2012 Outstanding Book Award from the American Association of Journalists and Authors (ASJA). Allen and Linda Anderson adopted a traumatized one-year-old cocker spaniel who had been abandoned. Soon, the troubled dog they named "Leaf" turned their home into a war zone. Although Leaf and Allen were forging a friendship with visits to dog parks and bonding time, Leaf's emotional issues overwhelmed the couple. Shortly after Leaf's arrival, Allen, who had spent eight years as a big city police officer and survived so many close calls that Linda called him "Miracle Man," received a diagnosis from his doctor that made him think his luck had finally run out. Allen had an unruptured brain aneurysm that could be fatal, and the surgery to repair it might leave him debilitated. Having seen his father live for years with the effects of a massive stroke, he dreaded that the worst fate might not be death. What Allen didn't know is that he and Leaf, like comrades facing the ultimate battle, would be there for each other with the miracle of this man and this dog coming together at exactly the right time. .
About the Author
New York Times bestselling authors! In 1996, Allen Anderson with his wife Linda founded the Angel Animals Network (www.angelanimals.net) to help people discover the miraculous benefits of human-animal companionship. Since then, Allen has co-written a popular series of thirteen books on the subject. Allen's books have been recommended or featured in O Magazine and Oprah.com, Today Show, ABC's Nightly News, Amazon.com's Hot 100, and B&N's Top 10. Allen has been interviewed for USA Today, Washington Post, NPR, and other national and regional media.
Praise For Dog Named Leaf: The Hero from Heaven Who Saved My Life…
  Praise for A Dog Named Leaf:
"A Dog Named Leaf is a very touching and well-written book that clearly comes from Allen Anderson's heart. Although I am not a religious or spiritual person and couldn't wrap my mind around some of the things that happened in Allen and Leaf's story, the more I read, the more my skepticism melted. I am convinced of Leaf's ability to sense what Allen needed. This book will make readers feel as if they know Leaf, and they'll grow to love him too."—Jeffrey Moussaieff Masson, PhD, New York Times best-selling author of twenty-four books, including When Elephants Weep, Dogs Never Lie about Love, and The Dog Who Couldn't Stop Loving 
"With its dramatic dual journey, A Dog Named Leaf explores the intangibles of health and healing without attempting to explain them away. This memoir's pulse-pounding brushes with danger, startling synchronicities, and insights on fulfilling one's purpose in life offer hope and new perspectives on the expansive power of love. It truly is the most unusual dog book ever."
—Dr. Marty Becker, resident veterinarian on Good Morning America and The Dr. Oz Show and featured columnist vetstreet.com
"When I rescued my companion dog Jethro years ago, I realized this wonderful being also rescued me and taught me numerous valuable life lessons. Many people have similar stories, and this wonderful book about another amazing dog, Leaf, will be impossible to put down. In A Dog Named Leaf, two guys—a troubled and scarred shelter dog and a former police officer turned writer—face life and death challenges together. Its unexpected twists and turns kept me pinned to the pages and cheering for Leaf and Allen to heal and succeed together. The strong compassionate emotional bonds they formed—deep and enduring friendship and love—will move you in many ways. Read this most inspirational book and share it widely."
—Marc Bekoff, author of The Emotional Lives of Animals, Wild Justice: The Moral Lives of Animals, and The Animal Manifesto: Six Reasons for Expanding Our Compassion Footprint
"A remarkable story. It will reaffirm your faith in the unique and mutually healing bond that can form between humans and animals." —Gwen Cooper, New York Times best-selling author of Homer's Odyssey
 
"Transcending the oft-told story of the human/dog bond, Allen and Leaf teach each other lessons of trust, love, and faithin the face of life's tumult. A must-read for anyone who has experienced the guiding spirit of a dog."—Susan Wilson, author of The Dog Who Danced 
 
"I was moved by this story of resilience and love. It conveys beautifully the vulnerability and richness of a dog's life and the connection between their biographies and our own."—Jonathan Balcombe, author of Second Nature
 "Part Marley and Me and part Jon Katz, A Dog Named Leaf by the Minnesota writing team of Allen and Linda Anderson is the story of an abandoned cocker spaniel the couple rescued, despaired of, learned to love...The Andersons hire dog communicators to get to the bottom of Leaf's problems. ("I was left," Leaf apparently tells one of them mournfully.) But more problems loom: Allen Anderson is found to have a brain aneurysm, and he faces risky surgery. And then doctors find a blood clot in his leg. It is Leaf, Anderson wants us to know, who helped him through this terrible time, just as he helped Leaf adjust to his new home...While you might not believe everything in this very spiritual book (and how I wish their method of calmly explaining the rules to Leaf so that he will stop misbehaving would work with my Rosie), the story is endearing, and the many photographs of Leaf running, swimming, and chasing a tennis ball in south Minneapolis are adorable."
 LAURIE HERTZEL, BOOKS EDITOR, Minneapolis Star Tribune, October 27, 2012