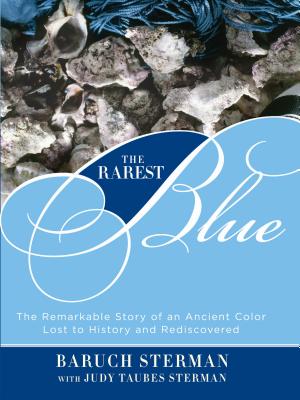 The Rarest Blue (Hardcover)
The Remarkable Story of an Ancient Color Lost to History and Rediscovered
Lyons Press, 9780762782222, 305pp.
Publication Date: November 20, 2012
* Individual store prices may vary.
Description
For centuries, blue and purple dyed fabrics ranked among the ancient world's most desirable objects, commanding many times their weight in gold. Few people knew their secrets, carefully guarding the valuable knowledge, and strict laws regulated their production and use. The Rarest Blue tells the incredible story of tekhelet, the elusive sky-blue color mentioned throughout the Bible. Minoans discovered it; Phoenicians stole it; Roman emperors revered it; and Jews--obeying a commandment to affix a thread of it to their garments--risked their lives for it. But as the Roman Empire dissolved, the color vanished. Then, in the nineteenth century, a marine biologist marveled as yellow snail guts smeared on a fisherman's shirt turned blue. But what had caused this incredible transformation? Meanwhile, a Hasidic master obsessed with the ancient technique posited that the source of the dye was no snail but a squid. Bitter controversy divided European Jews until a brilliant rabbi proved one side wrong. But had an unscrupulous chemist deceived them? In this richly illustrated book, Baruch Sterman brilliantly recounts the amazing story of this sacred dye that changed the color of history.
About the Author
Baruch Sterman is a physicist who helped develop the modern techniques for dyeing tekhelet authentically. Cofounder of the Ptil Tekhelet Association, he has written numerous articles on the subject and is considered a world expert on snail dyeing. He works with high-tech communications companies in the United States and Israel, where he lives with his wife and coauthor, Judy Taubes Sterman.
Praise For The Rarest Blue: The Remarkable Story of an Ancient Color Lost to History and Rediscovered…
"The Stermans' dedication is admirable and their research comprehensive … Ambitious."
—Kirkus Reviews

"An amazing tale of historical sleuthing told by a true storyteller who captures both the drama and the magic of the quest for Biblical blue."
—Simcha Jacobovici, Emmy Award–winning journalist, director, and author

"A story of science and religion, of craft and history, and told in such an engaging way. The Rarest Blue is spellbinding, each page a revelation. In lovely, engaging prose, the Stermans reveal the rediscovery of snail indigo—a detective story with cultural origins and a spiritual ending. A wonderful book."
—Roald Hoffmann, winner of the Nobel Prize for chemistry

"The Rarest Blue is truly a multidisciplinary story. At its most basic, it represents and employs a genuine fusion of Torah and science, accessible and useful to both scholar and layman. But beyond that, it spans a rich spectrum of disciplines in the realms of science and the humanities as it tracks a historical saga across many generations. The Stermans have done a masterful job in relating this captivating tale."
—Rabbi Dr. Ari Zivotofsky, Interdisciplinary Program for Brain Science, Bar-Ilan University
or
Not Currently Available for Direct Purchase