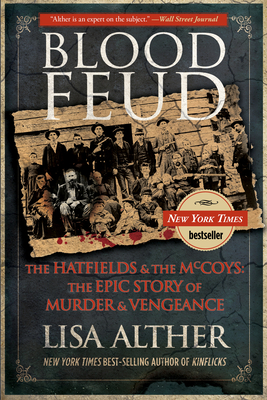 Blood Feud (Paperback)
The Hatfields and the McCoys: The Epic Story of Murder and Vengeance
Lyons Press, 9780762782253, 286pp.
Publication Date: February 5, 2013
Other Editions of This Title:
Hardcover (5/22/2012)
MP3 CD (5/17/2016)
* Individual store prices may vary.
Description
America's most notorious family feud began in 1865 with the murder of a Union McCoy soldier by a Confederate Hatfield relative of "Devil Anse" Hatfield. More than a decade later, Ranel McCoy accused a Hatfield cousin of stealing one of his hogs, triggering years of violence and retribution, including a Romeo-and-Juliet interlude that eventually led to the death of one of McCoy's daughters. In a drunken brawl, three of McCoy's sons killed Devil Anse Hatfield's younger brother. Exacting vigilante vengeance, a group of Hatfields tied them up and shot them dead. McCoy posses hijacked part of the Hatfield firing squad across state lines to stand trial, while those still free burned down Ranel McCoy's cabin and shot two of his children in a botched attempt to suppress the posses. Legal wrangling ensued until the US Supreme Court ruled that Kentucky could try the captured West Virginian Hatfields. Seven went to prison, and one, mentally disabled, yelled, "The Hatfields made me do it " as he was hanged. But the feud didn't end there. Its legend continues to have an enormous impact on the popular imagination and the region. With a charming voice, a wonderfully dry sense of humor, and an abiding gift for spinning a yarn, bestselling author Lisa Alther makes an impartial, comprehensive, and compelling investigation of what happened, masterfully setting the feud in its historical and cultural contexts, digging deep into the many causes and explanations of the fighting, and revealing surprising alliances and entanglements. Here is a fascinating new look at the infamous Hatfield-McCoy feud.
About the Author
Lisa Alther was born in the Appalachian town of Kingsport, Tennessee, and is the author of six bestselling novels, which have appeared in fifteen languages and sold over 6 million copies worldwide. She divides her time among Tennessee, New York City, and Vermont. Her father's family is related by marriage to the Fighting McCoys.
Praise For Blood Feud: The Hatfields and the McCoys: The Epic Story of Murder and Vengeance…
CRITICAL ACCLAIM FOR BLOOD FEUD

"Alther is an expert on the subject of the feud."—Wall Street Journal

"An exhaustively researched, well written, and beautifully produced volume. … Alther … has created an impressive document that considers not only the events of the feud and their consequences but the complex web of unique circumstances—historical, geo-political, psychological, educational, spiritual, and socioeconomic—that allowed the conflict to continue for so long."—Knoxville News Sentinel

"The Hatfields of West Virginia and the McCoys of Kentucky, history's most famous feuding families, come to lurid life (and usually die unnatural deaths) in this well researched and finely written history. … It's wonderful, awful stuff, rife with ambushes, horrific murders of men, women, and children, revenge and betrayal, and void of anything resembling justice or mercy. But Alther goes beyond the bloody facts, showing how closely the feud was related to the Civil War and weaving in other context that shows how utterly American the feud was, and how it reverberates yet today, especially in Appalachia. All good, that, but the best part is tracking the bloodstained characters through their astounding, outrageous lives. Lots of photographs spice things up even more."
—Star Tribune (Minneapolis–St. Paul)

"Alther's book is well researched … a fever dream of bloody revenge and forbidden romance deep in the mountains."
—Lexington Herald

"Alther's deft command of style and her keen perceptions of the feelings beneath the facts makes this book a compelling read. It goes beyond supplying knowledge and provides understanding and a dash of wisdom on this complex phenomenon."
—Appalachian Heritage

"Alther … tells the entire mind-numbing story. … Two factors in her book raise it above a tabloid retelling, one being the historical context she provides. … The other striking aspect of Blood Feud is subtler, dispiriting … but emerges clearly from her exposition of events: the practical value of unhesitating violence. It was the born killers, the ones unhampered by moral qualms or a belief in the legal system, who showed the highest survival rates."
—Macleans

"Alther covers what she found in her research to be the events that really ignited the feud in 1865. … Another unique aspect of the book is that it is a narrative look at the feud that combines research with her personal feelings and connections to the feud. … It also touches on the implications of the feud and the long-term impact it has had on the Appalachian region."
—KY Forward

"Alther has scoured newspaper reports, government records, oral histories, and family archives to pull from the slanted accounts details that flesh out her nonfiction characters.  ... She allows many currents to deepen her story without losing a sense of the fateful whole. Blood Feud joins a host of key paradigm-shifting books about mountain identity, including: Miners, Millhands, and Mountaineers by Ronald Eller; and The Mind of the South by W. J. Cash. Alther's personal connection classes her book also with great Appalachian memoirs, such as John O'Brien's At Home in the Heart of Appalachia."
—The Read on WNC

"Alther puts a new spin on the legendary Hatfield and McCoy feud."
—Library Journal, starred review