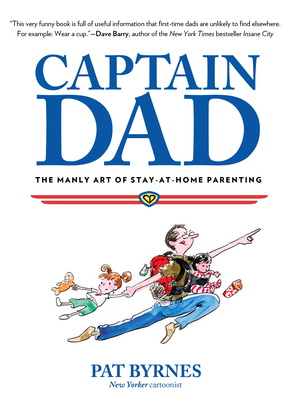 Captain Dad: The Manly Art of Stay-At-Home Parenting (Hardcover)
The Manly Art of Stay-At-Home Parenting
Lyons Press, 9780762785209, 248pp.
Publication Date: May 7, 2013
* Individual store prices may vary.
or
Not Currently Available for Direct Purchase
Description
Pat Byrnes worked at home and made his own hours. His wife's job (Illinois Attorney General) was not so flexible. So when the first baby came, he naively volunteered to go where few men have gone before and stay home with the kids. On one condition. He wouldn't be called Mr. Mom, but . . . Captain Dad. Byrnes has collected his insights in the first book about stay-at-home fatherhood by a professional humorist who has lived the part. He reports on the front lines of modern parenting, tackling all of the expected subjects, like sleep deprivation and the constant battle against Disney for your child's affections. But he also covers the less expected, more random moments on the job and the surprising insights they offer. From the absurd pride that comes from being able to change a diaper almost anywhere to the surprising talent you develop for improvising answers to Life's Most Important Questions, such as "Why is bird poop white?" With wit, pith, and vinegar, Byrnes examines this hitherto unexamined life and finds it worth living.
About the Author
It may not take a rocket scientist to draw cartoons or raise kids but Detroit native Pat Byrnes (a.k.a. Captain Dad) erred on the side of caution by getting his Aerospace degree at the University of Notre Dame. He joined General Dynamics Convair as the first pre-design engineer (the brainstorming guys) they had ever taken directly out of undergrad. Despite this privilege, he knew his calling was elsewhere. For a time, he honed his creative skills writing ad copy for big agencies like W. B. Doner in Detroit and J. Walter Thompson in Chicago. He scripted ads for everything from cheese to menstrual relief products, and won buckets of awards, from the Addy to the Clio. During this time, he moonlighted with experimental comedy acts, to much critical acclaim (even notoriety) in Chicago's then crackling night club scene. He left writing ads for reading them as a voiceover actor. Between auditions, he finally found time to answer his above-mentioned calling: Cartooning. Since 1998, Pat has been a regular contributor to The New Yorker. Before dad duties slashed his working hours, he was also a staple in Reader's Digest, Wall Street Journal and America Magazine. For three years, he created the syndicated comic strip, "Monkeyhouse." He has won the National Cartoonists Society Award for advertising illustration, and awards for his sonnets. He also writes musicals. And he used to paint when he had the time. His gag cartoons appeared for the first time in book form in What Would Satan Do? and again in Because I'm the Child Here and I Said So. His most recent book is Eats Shoots & Leaves Illustrated Edition by Lynne Truss (Gotham 2008) of which he is the illustrator. More recently, he is the inventor of the Smurks; initially intended to be an iPhone app to help friends share their feelings better on their handheld devices, Smurks is now being embraced as a powerful new tool to help people with autism connect with their emotions and to help neuroscientists study the brain's responses to nonverbal facial expressions. Pat is married to Lisa Madigan, who, in addition to being charming and beautiful, is also the Attorney General of the State of Illinois. They live a surprisingly quiet life with their delightful daughters, Rebecca and Lucy, on the banks of the Chicago River."
Praise For Captain Dad: The Manly Art of Stay-At-Home Parenting…
"An absolutely delightful addition to the parenting canon from 'Captain Dad' (don't call him 'Mr. Mom') Pat Byrnes. Captain Dad illustrates (literally, with a dozen or so laugh-out-loud cartoons) the 'manly art' of stay-at-home parenting. He pulls it off with great wit, warmth, and some bombshell revelations. Never would I think of a jockstrap as part of the parenting uniform or that (outrageously!) dads don't have 'potty parity' in diaper changing rooms. And as a mom, this is a must-have book for sweet vindication alone. Captain Dad confirms that when it comes to fulltime parenting, wimps need not apply. Welcome, Captain Dad, to our tired, unwashed, unpaid, and undervalued army. Now, let's get you some yoga pants!" 
—Linda Keenan, author of Suburgatory 
Advertisement