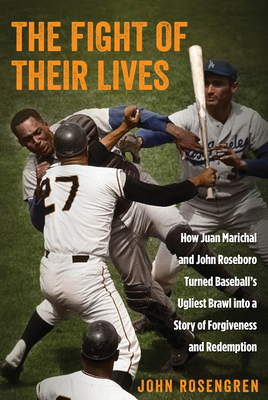 Fight of Their Lives (Hardcover)
How Juancb: How Juan Marichal and John Roseboro Turned Baseball's Ugliest Brawl Into a Story of Forgiveness and Redemp
Lyons Press, 9780762787128, 277pp.
Publication Date: February 18, 2014
Other Editions of This Title:
Paperback (2/1/2015)
* Individual store prices may vary.
Description
One Sunday afternoon in August 1965, on a day when baseball's most storied rivals, the Giants and Dodgers, vied for the pennant, the national pastime reflected the tensions in society and nearly sullied two men forever. Juan Marichal, a Dominican anxious about his family's safety during the civil war back home, and John Roseboro, a black man living in South Central L.A. shaken by the Watts riots a week earlier, attacked one another in a moment immortalized by an iconic photo: Marichal's bat poised to strike Roseboro's head. The violent moment-uncharacteristic of either man-linked the two forever and haunted both. Much like John Feinstein's The Punch, The Fight of Their Lives examines the incident in its context and aftermath, only in this story the two men eventually reconcile and become friends, making theirs an unforgettable tale of forgiveness and redemption. The book also explores American culture and the racial prejudices against blacks and Latinos both men faced and surmounted. As two of the premiere ballplayers of their generation, they realized they had more to unite them than keep them apart.
About the Author
John Rosengren is the award-winning author of seven previous books. His most recent is the definitive biography of Hank Greenberg, Hall of Fame baseball player and America's first Jewish superstar--Hank Greenberg: The Hero of Heroes. Prior to that, he wrote Hammerin' Hank, George Almighty and the Say Hey Kid: The Year That Changed Baseball Forever, which chronicles the 1973 MLB season. It was a finalist for the 2008 CASEY Award, given to the best baseball book of the year, and received honorable mention for Outstanding Book of 2008 from the American Society of Journalists & Authors. His other books include Blades of Glory: The True Story of a Young Team Bred to Win and a collaboration with Esera Tuaolo, Alone in the Trenches: My Life as a Gay Man in the NFL. A freelance journalist since 1981, Rosengren's articles have appeared in more than 100 publications, including AARP, Cycle Sport, The History Channel Magazine, Men's Journal, MLB Insiders Club Magazine, Penthouse, Reader's Digest, Runner's World, Sports Illustrated, Tennis, and Utne Reader. He is a member of the Society for American Baseball Research, the American Society of Journalists & Authors and president of the ASJA's Upper Midwest chapter. He is also an adjunct faculty member in the University of Minnesota's journalism school. Rosengren lives with his wife and their two children in Minneapolis.
or
Not Currently Available for Direct Purchase