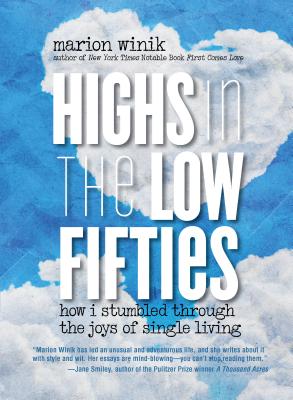 Highs in the Low Fifties
How I Stumbled Through the Joys of Single Living
Hardcover

* Individual store prices may vary.
Description
A cross between Nora Ephron and David Sedaris, longtime NPR commentator Marion Winik has a uniquely hilarious and relatable way of looking at life. Her stories of being single in middle age, marked by stylish writing and stunning candor, left readers bent double with laughter when they appeared in her column, rated Best of Baltimore by Baltimore Magazine.Highs in the Low Fifties follows Winik's attempt to rebuild her world as a once-widowed, once-divorced single mom. With her signature optimism, resilience, and poor judgment, Winik dives into a series of ill-starred romantic experiences. Her clarity about her mistakes and ability to find humor in the darkest moments--in love, and in all parts of life--has won her a growing crowd of devoted followers . . . and a few voyeurs.
Praise For Highs in the Low Fifties: How I Stumbled Through the Joys of Single Living…
"Marion Winik has led an unusual and adventurous life, and she writes about it with style and wit. Her essays are mind-blowing—you can't stop reading them." —Jane Smiley

"Highs in the Low Fifties
 is an intoxicating elixir born of an intellect that longs for chaos: Marion writing love letters to the Boston Strangler, Marion getting a hockey-puck nose job, Marion sitting out front of a bank at the wheel of a getaway car, and Marion heavily bandaged 'serving the beef bourguignon as the Frito Bandito on Percodan.' Romantics will gobble the intimate and maniacal sex and dating revelations while witless saps such as myself will eagerly turn one more page and say, my goodness, is this how women really think? No wonder I've been dumped so many times. 
Highs in the Low Fifties
 is like laughing gas at a car accident. Read it and weep, for if it doesn't break your heart, it'll crack you up." —Poe Ballantine, author of
Love and Terror on the Howling Plains of Nowhere"Highs in the Low Fifties
hits the bull's eye—funny, sharp, poignant, wise. Sometimes, I think Marion Winik is simply selfless enough to live the life that most of us are too scared to try, then generously shares the results. Her latest memoir has her trademark candor and poetic cadences. But there's something new here, too—happiness. Rueful, cautious, but happiness nonetheless. It's like finding the Rough Planet Guide to Middle-Age."—Laura Lippman, author of
And When She Was Good
Skirt!, 9780762787135, 224pp.
Publication Date: June 18, 2013
About the Author
Marion Winik is the author of six books of creative nonfiction, including Telling, First Comes Love, The Lunch-Box Chronicles, and The Glen Rock Book of the Dead, and two volumes of poetry. Her essays and book reviews have appeared in The New York Times Magazine, The Sun, Salon, More, and Newsday. Her commentaries for All Things Considered are collected at npr.org. She is a professor at the University of Baltimore. For more information, go to marionwinik.com.
or
Not Currently Available for Direct Purchase