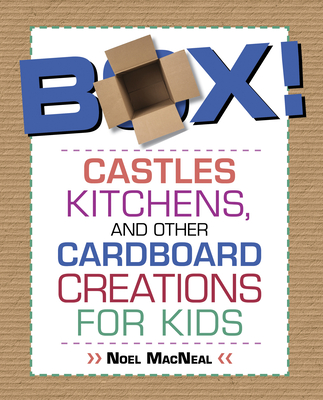 Box! (Paperback)
Castles, Kitchens, and Other Cardboard Creations for Kids
Lyons Press, 9780762787777, 162pp.
Publication Date: November 5, 2013
* Individual store prices may vary.
Description
How many times have you spent money on some fancy new toy for your child, only to have her ignore the toy and instead crawl into the large box it came in? Whether you're on a budget or just refuse to pay high prices for noisy, plastic toys, Box offers parents do-it-yourself, environmentally friendly crafts that can be made with cereal boxes, packing boxes, toilet paper rolls, and egg cartons. Filled with easy to make cardboard box craft ideas complete with supply lists, four-color photos, tips, and templates, Box supplies parents with projects that will keep their children entertained for hours, such as: making "little people" with toilet paper rolls; creating a pirate ship out of a milk carton; fashioning a telescope using a paper towel tube; assembling planes, trains, and automobiles from cracker boxes, pasta boxes, or toothpaste boxes; and even constructing a child-sized desk out of three large boxes. This book is the perfect way to make fun, inexpensive, sustainable toys for your little one.
About the Author
Noel MacNeal launched his career performing on PBS's award-winning Sesame Street, where he honed his craft with puppetry legends Jim Henson and Frank Oz. He's been a performer on Sesame Street for over twenty years, most recently training puppeteers for the Sesame co-productions in Japan, Mexico, South Africa, Palestine, Jordan, and India. He is also a regular performer with the classic Muppets.For the past decade, Noel has been the spirit and voice of Bear, the gentle and lovable star of the Emmy Award-winning series Disney's Bear in the Big Blue House and the Disney Channel morning series, Breakfast With Bear. In 2003, Noel received a Daytime Emmy Nomination as Outstanding Performer in a Children's Series. His repertoire of characters also includes Lionel on PBS's Emmy-award-winning Between the Lions, Kako on the Nick Jr. series Oobi and Blue on Blue's Room. He's also played Magellan on the Ace Award-winning series Eureeka's Castle on Nick Jr. He played Madame Chairbird in the film Sesame Street Presents: Follow That Bird, Rabbit for Disney Channel's Emmy Award-winning series The Book of Pooh, Leon on PBS's The Puzzle Place, and Knock-Knock on The Great Space Coaster. In addition, he's performed with and/or for: Woody Allen, Bill Cosby, Whoopie Goldberg, Jerry Lewis, Mickey Rooney, Emma Thompson, Wayne Brady, Dave Chappelle, Donny and Marie Osmond, Gilbert Godfrey, Tom Bergeron, Regis and Kelly, and Matt Lauer and Katie Couric. (But not all at once.)Noel is also a television writer. His scripts have been featured on PBS Kids Sprout's The Goodnight Show, PBS's Cyberchase, Disney Channel's Bear in the Big Blue House, PBS's The Puzzle Place and The Magic Schoolbus, Nickelodeon's Eureeka's Castle and Gullah Gullah Island. And now he's added the credit of television director, having directed episodes of Bear in the Big Blue House and PBS Kids Sprout's The Good Night Show and on camera talent as the human host of A Very Special Good Night Show for PBS Kids Sprout.Noel lives in Brooklyn with his wife, Susan, and three-year-old son, Matthew. He is the author of Ten-Minute Puppets with Noel MacNeal.