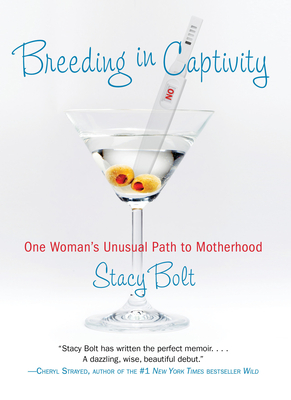 Breeding in Captivity
One Woman's Unusual Path to Motherhood
Hardcover

* Individual store prices may vary.
Description
Breeding in Captivity takes us on Stacy Bolt's journey to have a child at "advanced maternal age," first with the help of a Really Expensive fertility specialist, and then ultimately through a local adoption agency. But this isn't your typical serious memoir about struggling with infertility; it's an entertaining, witty read that perfectly balances humor with its more poignant moments. Breeding in Captivity is about a quirky, lovable couple that you root for through their fertility struggles and adoption adventures. It's about the hundreds of Internet message boards where annoyingly perky women from Kappa Alpha Fruitcake refer to sex as "babydancing" and sprinkle virtual "baby dust" on each other. It's about meeting birthmothers and deciding on open adoptions. It's about being chosen and then having a birthmother change her mind. But ultimately, it's about hope, how life can surprise you, and laughing through the insanity.
Praise For Breeding in Captivity: One Woman's Unusual Path to Motherhood…
"Stacy Bolt has written the perfect memoir-one that is so smart and funny and full of heart that it transcends what it's about and becomes instead, quite simply, a book about all of us. Breeding in Captivity is a dazzling, wise, beautiful debut. -Cheryl Strayed, author of Wild
 "Stacy Bolt, in
Breeding in Captivity,
tells the unvarnished, wicked truth about the modern quest for motherhood. And it's the real truth, not some fake, edgy, culturally-approved truth. Forget everything you thought you knew about infertility and adoption. Bolt's experience is harrowing and darkly hilarious.    It's funny, sassy, irreverent, and has a haunted house in it, and also a 6' iguana named Elvis. Furthermore, it's infertility in Portland. It's the quest for motherhood, with a bird on it." —Karen Karbo, author of
How Georgia Became O'Keeffe
"Honest, poignant, funny, and spot-on, Stacy Bolt's Breeding in Captivity chronicles her and her husband's winding—and a tad loopy—path to parenthood. Step into this memoir and you will be greeted at the door with a martini and a cozy seat in the middle of the heartbreaking, hopeful, and sometimes ridiculous world of infertility, guided by Bolt's sure, witty, and heart-wise voice throughout."
—Susan Woodring, author of Springtime on Mars  
Skirt!, 9780762787982, 181pp.
Publication Date: September 3, 2013
About the Author
Stacy Bolt is a Portland writer whose essays are frequently featured on Live Wire, a radio program aired on Oregon Public Broadcasting and syndicated in several national markets. Her work has also been published in Imbibe magazine and Portland Monthly.
or
Not Currently Available for Direct Purchase